New Battery To Juice Up Your Galaxy SII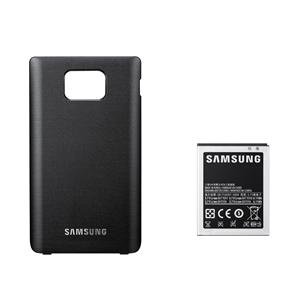 A new 200mAh battery for the Samsung Galaxy S II has hit the market promising to significantly extend the live of your Galaxy S II (if you ever get one that is.... curse you delayed American launch dates!) The hair thin 4.3-inch smartphone has long been a favorite of international consumers sporting an impressive Samsung display and a powerful 1.2 Ghz dual-core processor. Now with the addition of a new powerhouse, the Samsung flagship is sure to be even more attractive to American consumers, when it launches in the US later this year.
But with great power comes... a larger profile. The new battery boosts the phones thickness slightly- taking the mini Galaxy up by around 1mm. It's not the world and the device should still fit nicely in your pocket. But even that 1mm difference means costumers choosing the new battery will have to use a new back cover for their Samsung handset that comes packaged with the battery. Even with the new cover the phone remains one of the smallest on the market.
The only downside is the cost –at $65 through Italy's Samsung store its not the cheapest peripheral on the block– but I have to admit I'd drop the cash if it meant I could go a day or two longer between charges.