New Device Charges Your Cellphone While Boiling Tea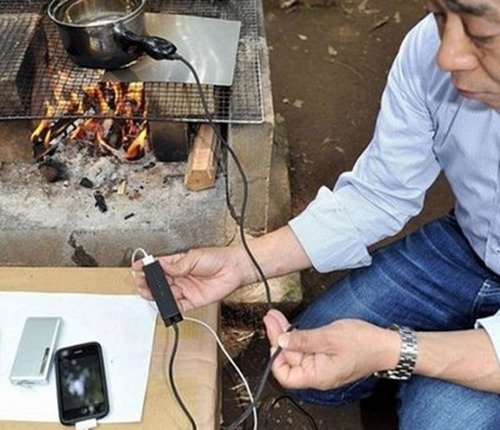 Fans of Survivor, take note. A Japanese firm has created a device that can charge your cell phone using just a pot of boiling water. The new technology was developed after TES NewEnergy CEO Kazuhiro Fujita saw footage of earthquake victims huddled around small fires, and wondered whether integrating a cell-phone charger into a saucepan would be a good idea.
The pan-charger at first glance appears like any regular pot, but has "a base plate covered in strips of ceramic thermoelectric material: the temperature differentials between the fire underneath and the 100-degree C water inside allow that material to create electricity, which is pumped out via a regular USB connection," according to Yahoo news.
Not only would this device drastically change the plot of a horror book set in the woods but it could also be helpful in developing countries where access to electricity is scarce.
TES NewEnergy says the device takes three to five hours to charge an iPhone and can heat up your lunch at the same time. But it'll cost ya.The company will initially be selling the device for 24,150 yen ($299), making it among the most expensive cell phone chargers around.