New Study Measures Android App Popularity by Gender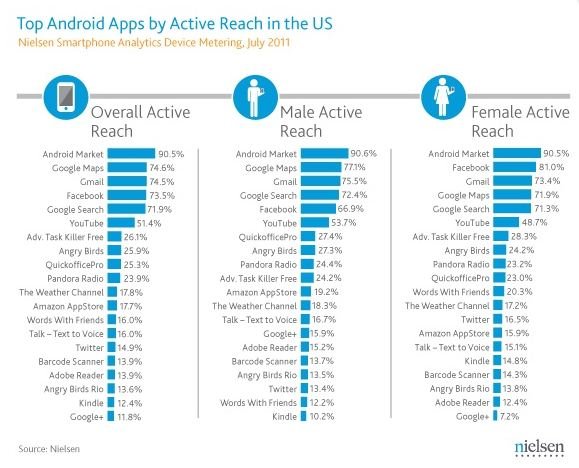 It may not surprise you to learn that the most popular Android apps tend to be the ones made by Google. But you may be surprised to know about the extraordinary reach of seemingly wonky apps like Advanced Task Killer. Nielson has ranked the app as the 7th most popular app overall, and it seems to be even more popular with women than it is with men (!)
Other than that, the list of popular apps should look familiar to most people who own an Android. The most popular app remainds Android Market, with Google Maps, GMail, Facebook and Google Search rounding out the top 5. The Weather Channel app almost cracks the top 10 while the Scrabble app "Words with Friends" is ranked #14. The Google+ app, which was launched less than 2 months ago, has gained a lot of traction in a short period of time and is now the 20th most popular app, although its popularity among men (#14) far outweighs its popularity among women (#20). Women seem to prefer playing Words with Friends (#11) or updating their Twitter account (#13) instead.
Nielson apparantly defines "active reach" as the percentage of users who have used an app within the last 30 days, which seems to be a fairly sound way of measuring an app's popularity. What do you think of this list? Does anything surprise you?
Related:
Is the New Facebook App Adequately Addictive?
[Review] Spiffy New Categories and an Improved UI: Android Market App Gets a Facelift

Google+ App for Android Gets Updated – Improved Notifications, 1:1 Huddles and More