Nielson: iPhone Users Download More Apps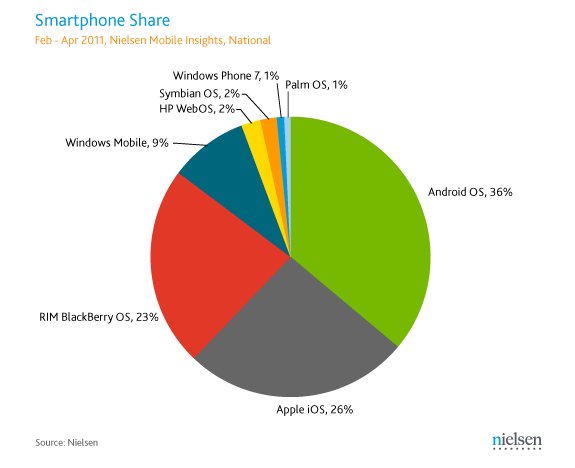 Picture: blog.nielsen.com
Nielson, the OG of data collection on TV viewership and other statistcally relevant areas of telecommunication, has recently published the results of a study of smartphone users showing that Android users consume more data but download fewer apps on their devices than iPhone users.
Android is still the clear winner, ownership-wise -- 37% of smart phone users in the U.S. have an Android, while 26% have an iPhone, 23% have a Blackberry and 15% have either Symbian, Windows Mobile and HP Web OS.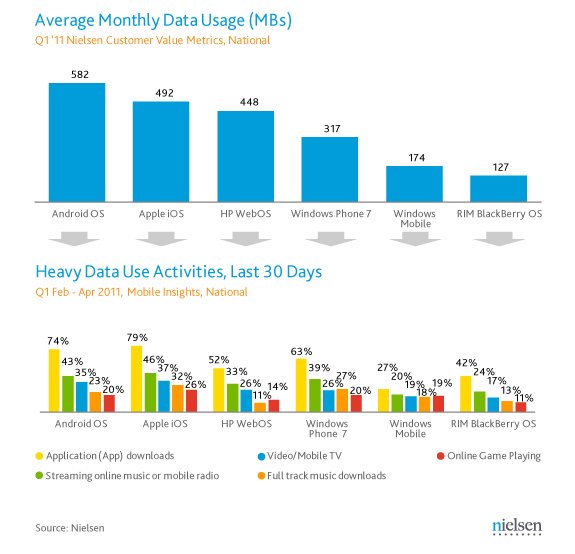 But when it comes to apps, the picture that emerges is a bit less rosy. 79% of iPhone users said that they downloaded an app in the last 30 days, compared to 74% of Android users. Radio and streaming music numbers were a bit more even -- 43% of Android users and 46% of iPhone users said that they streamed music or mobile radio online in the past month -- but still registered a slight loss for Android.
While these numbers may seem insignificant, they sadly might be representative of larger trends. Android has been fast to grow, but that growth has lead to fragmentation. Because of this, there's no doubt some application developers are choosing to develop apps for Apple and not Android. And fewer quality apps = fewer downloads.
But the report isn't all doom and gloom. Besides the fact that Android users far outnumber iPhone users, they also consume more data. Android users, on average, download 582 MB per month; almost 100 MB more than iPhone users. Could this mean that they use the "smart" functions of their smartphones more often than iPhone users?