No Google for You! Facebook Bans Ad that References Google+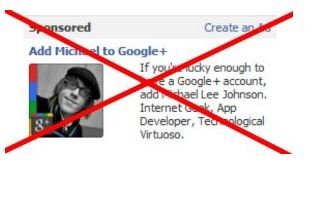 Web developer Michael Lee Johnson was trolling for Google+ friends on Facebook by running a small Facebook banner ad asking people to add him to their circles on Google+. Facebook didn't like the looks of that and not only removed his ads but suspended all of his campaigns. Johnson received the following message from Facebook corporate:
Your account has been disabled. All of your adverts have been stopped and should not be run again on the site under any circumstances. Generally, we disable an account if too many of its adverts violate our Terms of Use or Advertising guidelines. Unfortunately we cannot provide you with the specific violations that have been deemed abusive. Please review our Terms of Use and Advertising guidelines if you have any further questions.
Can't say we're especially surprised. Stil, this is only going to add fuel to the anti-Facebookers; at last count, Johnson's post on the matter had been shared over a thousand times.