 Nook Tablet vs. Kindle Fire: Which is the Better Tablet?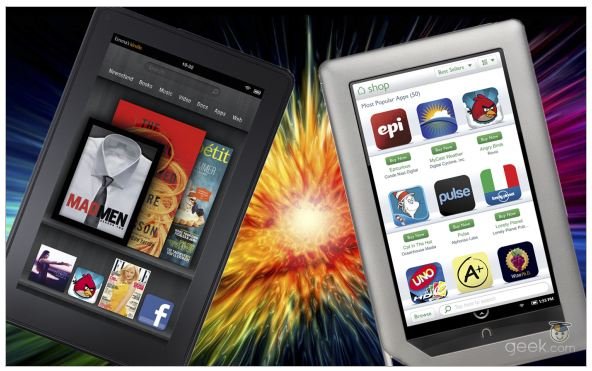 (Image from Geek.com)
Barnes and Noble is hoping to light a fire under the Fire with their new Nook tablet (AKA the Nook Color). In B&N's presentation today, the company threw a few punches in Amazon's direction, claiming the Nook Tablet is superior to the Kindle Fire– and thus is worthy of 50 more of your hard-earned dollars. Let's take a look at how the tablets really compare to eachother:
Design and dimensions:
The Nook Tablet is just a touch thicker than the Kindle Fire (.48 inches vs .45 inches, respectively) but also slightly wider and longer. Interestingly, the Nook Tablet is a bit lighter (14.1 ounches vs. the Fire's 14.6 ounces). Perhaps this is because of its small hook on the left-hand corner. Folks have complained about the original Nook Color having a cheap, plastic-y feel and the Nook Tablet appears to use the same materials, although in a whiter shade. The Kindle Fire, in contrast, has a sturdier feel more akin to the first Motorola Xoom tablet. WINNER: Kindle Fire
Display:
Identical. Nothing to compare here. Both the Nook Tablet and the Kindle Fire feature 7" IPS displays with 1024x600 resolution, or 169 pixels per inch. Of course we'll have to play around with both to let you know which display is sharper but on paper they look the same. WINNER: Tie.
RAM:
The Nook Tablet is advertising itself as 2x as fast because it has 1GB of RAM compared to the Kindle Fire's 512 MB. Is this true? Performance is determined by many factors – including software – and one cannot make this statement based on RAM alone. Both tablets should be similarly snappy. On paper, though, the Nook wins this round. WINNER: Nook Tablet
Storage:
Here's where the Nook Tablet clearly shines. While we were a bit concerned about all those books, movies and magazines fitting on the Kindle Fire's meager 8GB of storage, the Nook Tablet promises 16GB standard plus an expandable SD card slot, giving the tablet far greater storage capacities. While Amazon promises to store all your media in a cloud, those looking to download every app ever made would probably be happier with a Nook Tablet. WINNER: Nook Tablet
Battery:
Supposedly, the Nook Tablet features a superior battery life compared to the Kindle Fire. Barnes and Noble is claiming you'll get 3.5 hours more, when reading – at least while the WiFi is off. That boils down to 8 hours of playpack for the Kindle Fire and 11.5 hours for the Nook Tablet. Whether or not this claim proves to be accurate remains to be seen (and this is one factor you really can't trust tech companies to accurately report). WINNER: TBD.
Apps:
Amazon's Appstore is clearly more advanced than Barne's & Noble's App Store: hell, I even sometimes prefer Amazon's Appstore to Android Market, since they tend to offer great deals on new apps. The Appstore is a solid replacement for Android Market and owners of non-Amazon devices regularly use it.
The Nook Apps, meanwhile, only work on the Nook, and so far the store devoted to them can't match the diversity or quality of Amazon's Appstore. Of course there's huge potential for growth but we can't recommend the Nook over the Fire in this category. WINNER: Kindle Fire
Extras:
The Kindle Fire utilizes Silk web browser, which supposedly loads pages faster by cacheing web page elements in a cloud. Amazon Prime also offers Netflix-esque streaming movies and free book lendings for a yearly fee of $79. The Nook Tablet, on the other hand, offers Netflix and Hulu, which should help make up for the lack of a native streaming video client. The winner of this round is entirely subjective. WINNER: Tie.
Conclusion:
At $250, the price will be the largest stumbling block for potential Nook Tablet buyers. While the Nook has a couple of obvious advantages in the storage and battery life departments, will these factors be enough to convince folks to ditch Android's well-developed app ecosystem for one developed by B&N? Right now their app library simply isn't as extensive as Amazon's, although it could grow.
Design-wise, some might also be put off by the Nook's cheaper-feeling materials. Other than these factors, though, these are both fairly similar tablets. Perhaps it was a catch-up job, but not such a bad one at that. There's potential for both of these tablets to succeed in the market, but we'd rather own a Kindle Fire. WINNER: Kindle Fire
This article has been updated since it's original publication.