Obama Wants to Keep Nerds in the U.S.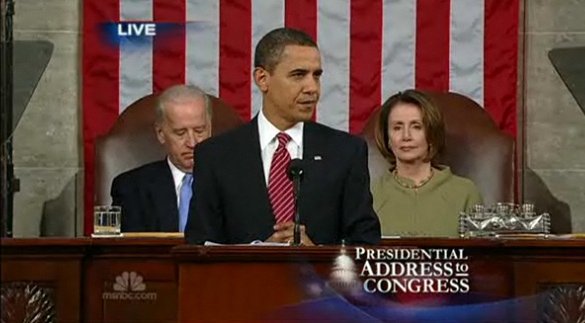 Obama's always been good with the speeches. In his State of the Union address last night, the president said he wanted more training for folks in the tech sector. "Growing industries in science and technology have twice as many openings as we have workers who can do the job," he said. "Think about that – openings at a time when millions of Americans are looking for work."
I've written before about how we need to train high schoolers in coding, and Obama seems to be backing up my idea in his speech. We need to invest in tech education in our nation's high schools if we're going to be able to compete with Korea, China and Taiwan. The economy right now is in the tank – unless you work in Silicon Valley.
Obama also said that America should support the next Steve Jobs by creating tax breaks for entrepaneurs. It's a great idea, and one we should definitely implement immediately. But how about penalizing companies that don't invest at home?
Think about it: Apple employs tens of thousands of folks in the States and directly and inderectly employs hundreds of thousands of workers in Asia. Some of these workers work miserable hours and earn measly paychecks. But others are innovating the next great semi-conductors, processors and scratch-resistant glass. These are jobs that could be kept in the U.S.
Obama also said he would like to extend tax hikes for companies whose profits are generated outside the U.S. but I doubt he'll actually be able to pass anything close to that; the special interests in the U.S. are just too strong.
Perhaps the best bet for investing in the U.S. tech sector is making sure that the folks who immigrate to the U.S. to study engineering or computer science stay in the country. Providing incentives would help, rather than deporting folks with college degrees. Obama's on it.