 Official Samsung Website: No Micro SD Card for Galaxy Tab 10.1
We've been wondering whether or not the rumors were true that the Galaxy Tab 10.1 was lacking a microSD card, and now our fears have been confirmed by the 10.1's official website: we couldn't find a single shred of evidence that there will be microSD support on the new website: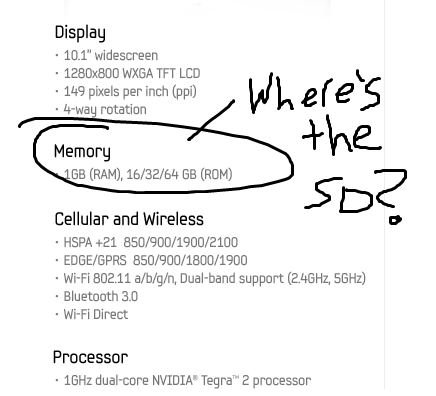 There was originally some confusion about this issue. Even though there was no microSD card slot on the Limited Edition Galaxy Tab 10.1 handed out to developers, people still speculated that the Wi-Fi version of the tablet would indeed have microSD support. No such luck.
The component that houses the microSD card is the same that houses the SIM card, and since there will be no SIM card needed for the Wi-Fi version, Samsung took the liberty of removing the slot completely, thus removing expandable storage capability.