Oh No They Di'int! SlingLabs Launches Notification Bar Ads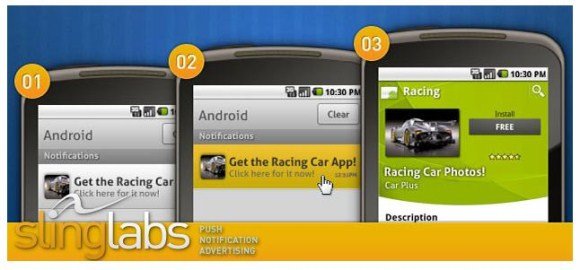 I'm pretty much resigned to the fact that when I download an app for zero dollars, I can expect ads for paralegal advice and teeth whitening to pop up at the bottom of my screen. In some cases, like with the game Bouncy Mouse, the ads are intrusive but harmless. In other cases, like with the app that dispenses medical advice, they are completely inappropriate. But at least – in both cases – the ads are confined to the apps themselves.
Now, an advertising firm wants to help advertisers and developers integrate their ads into the very DNA of an Android phone – their notification centers.
Slinglabs, an advertising firm, is marketing a product that'll allow developers to place ads within the notification center of Android phones. "Banner ads typically generate CPMs far less than $0.50, while Notifications consistently reach CPMs of $2 or more," reads the promotional copy on their website. "Better yet, notifications are not dependent on users interacting with your application – they receive notifications at any time!"
While this is potentially a goldmine for advertisers, we're guessing users will be none to happy to be in constant contact with advertising firms even after they've closed the offending app. Perhaps sensing that they may have just overstepped an invisible line between smartphone users and advertisers, Slinglabs even includes a page on their site that allows users the option to "opt-out" of their advertising by entering their phone number. We're guessing those high click-rates (40%? Really?) will diminish once users opt-out or uninstall these apps, which have essentially turned their phones into mobile billboard screens.
What do you think of Slinglab's notification center ads? Is this an example of malware masquerading as advertising or a legitimate way to make money off a free app?