 Oh No They Di'int: T-Mobile Talks Trash on Twitter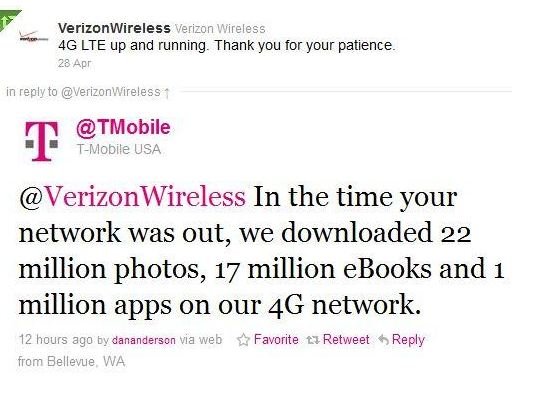 Oh, buuuuurn. Big Red just got told.
Over the weekend, T Mobile pounced on Verizon for their 4-day-long, 1-day-long, disputedly very long 4G outage, which affected the entire country's subscribers. In addition to bragging about the millions of books, photos and apps that were downloaded over their network during the outage, T-Mobile also bragged that they even had time to get their hair and nails done and read an entire New Yorker article about the war in Afghanistan.
But seriousy, the outage did suck and this was a smart marketing move on behalf of T Mobile. The niche carrior, which might be swallowed up by AT&T in the coming months, needs all the good press it can get. Although, as commentors on the interwebs have pointed out, all that downloading probably amounts to more than the 2GB monthly limit on all "unlimited" plans. And the Nexus S's spotty 3G coverage on T-Mobile last year runs counter to the company's claim of always reliable service.