Only HTC Above Average in Smartphone Satisfaction Survey Here's some surprising news for fans of Samsung, LG and Motorola. In a new satisfaction survey done by those fine folk at J.D. Power and associates, the three major smartphone producers are lagging behind in terms of overall customer satisfaction in the American market. After surveying 6,898 consumers throughout 2010 about their usage habits, preferences, ease of use, etc. J.D. Power determined that Korean and American Android producers are slightly below average regarding customer satisfaction, with LG fairing the worst among America consumers. While this is cause for concern for the American Android community, there is hope. And it's coming from China.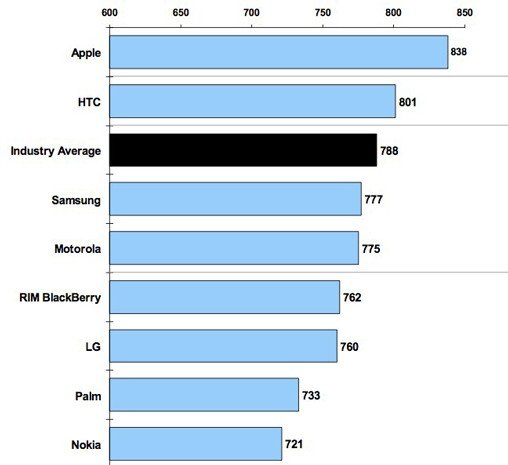 According to the survey results, HTC was the only major Android handset manufacture to preform better then average; it's meta-score of 801 put it a full 13 points above the industry norm, second only to apple. I have to admit given the active Android community and ever increasing market share that Android enjoys, these results really surprise me. According to the full press release, reduced size, improved technology (in the form of connectivity and camera quality) and better visuals (Super AMOLED displays, anyone) are the key factors leading to satisfaction among the general customer base. Now, these are areas where the Android field trounces the competition, so why are the major Android producers lagging so far behind in the survey?
You could chalk it up to fanboy-ism on the Apple side, but that would be a cop-out on the part of Android supporters. While mindless allegiance is useful in selling products, its hardly what you want to help propel a community-based endeavor like Android. While the most recent sale numbers give Android handset producers no cause to take heed, these survey results should serve as an impetus to keep improving the system. But instead of trying to get a faster processor or a clearer display, they might want to spend more time on the soft-side of the business; in other words maybe they need to spend more time working directly with the community, which is something Apple arguably does better then any other producer currently in the market.