Opinion: How Android Can Topple iBooks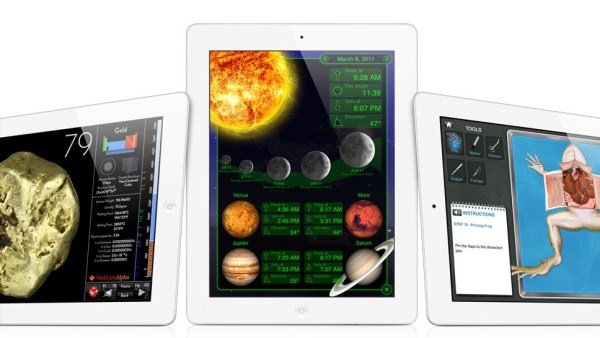 When it comes to equipping students to succeed in the classroom, Android is losing miserably to Apple right now.
Apple has devoted an entire section of their website to the promotion of their iBooks, and it is the kind of Apple marketing that makes you want to cry / buy stock in their company immediately. Apple writes compellingly about "the end of the textbook," showing a picture of an over-stuffed backpack filled with heavy textbooks and then a picture of a slim and sexy iPad next to it. The message is simple: tablets are the future of education. Add in a video with inspirational teachers talking about how hard it is to hold students' attentions these days, what with YouTube and Facebook, and I'm practically weeping. "Give them the tablets, already!" I want to yell. "Help these students succeed!" If Apple were a charitable organization, they'd have my hard-won money right now.
Compared to Apple's inspirational video about iPads in the classroom, Motorola's promotional video for their own classroom project falls flat. The company is not launching textbook-creation programs like iBook. Instead, the teachers crow about the Xooms' ability to help students coordinate projects or add multimedia aspects to their presentations."Our students are making comic strips! They're auto-tuning their voices," crows one of the teachers. Somehow, that doesn't sound so educational. The exclamation, "Our students can now use Flash!" doesn't sound like something a teacher would actually be excited about, and therefore sounds unbelievable. One student literally says, "my favorite app is the drawing app where I can, like, draw on it." Hooray for learning!
There are some points to the Apple iBooks launch, however, that are less than savory. For one, as MG Siegler at Tech Crunch notes, iPads are too expensive for most highschoolers and Apple would probably do better to target college-aged kids instead. There are also only 8 textbooks launched so far with the big name publishers; not enough to re-invent the industry. Also, the Apple ecosystem locks iBooks creators into selling their content merely through Apple, with a user agreement that has been called by ZdNet "mind-bogglingly greedy" since Apple can basically reject your textbook flat-out for no reason and you have no legal rights to sell it to anyone else.
Here's where Android can really shine. How about creating a textbook creation program that's free, open-source and totally legal to share with other devices and textbook stores? Nothing riles up Cupertino quicker than open-ecosystems!
Then, once you've created a free, open-sourced textbook-creation application, make it usable on any Android device, from bargain basement tablets running Froyo to the latest Ice Cream Sandwich marvels. That'll cut through the class wars over the iPad and allow more students access to interactive textbooks.
Oh – and do it quick! With 350,000 iBook downloads so far, we've got a lot of catching up to do.