Oregon Trail for Android? Thanks, But I'd Rather Die of Dysentery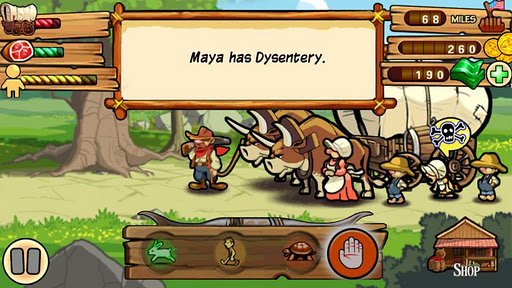 Consider the new Oregon Trail game by Gameloft a lesson on how not to create an Android game. According to reviews and first-hand evidence, the app takes up a whopping 300MB of space on your phone and forces you to pony up big bucks in order to advance levels – according to some reviews, the game costs over $50 to play the entire way through. So your carriage broke down and one of your crew is suffering from typhoid? That'll be $20, please.
It looks like the app was receiving so many negative 1 star reviews (37 and counting), that Gameloft paid their employees to give positive reviews of the game. After all, what else might account for such glowing reviews:
☆☆☆☆☆ Good
The funniest game I have ever played!!!!!

☆☆☆☆☆ Just like I remember
Great game.

☆☆☆☆☆ Amazing but dissappointed
The game itself is my favorite ever, but it doesn't work on my device (galaxy tab). Could you please update it in a way so that it is compatable with my device please?

☆☆☆☆☆ Tons of fun
This has all sorts of different and crazy things that happen to you when your on the trail. It also has a save as you go so it is kind of a long game which I love and you pick the level of difficulty.
Wow, what descriptions! "Amazing!" – even though it doesn't work on the device. "Save it as you go and pick the level of difficulty" – who's ever heard of a concept like that? Revolutionary, I say!
The rest of the reviews, understandably, are much more negative. Not only does the game fail to work on most devices, but steep in-app purchases were double-charged on some devices and then the company failed to refund the money.
Wow. Can you imagine a more awful game than this? And what sucks the most is that I really, truly loved the original. Looks like the right way to make it across the fronteir to Oregon with your cash and sanity intact is to not buy this Android game. You might not die from dysentery on this trail but you'll certainly go broke along the way.