Our Hands-On Video Review of Google + for Android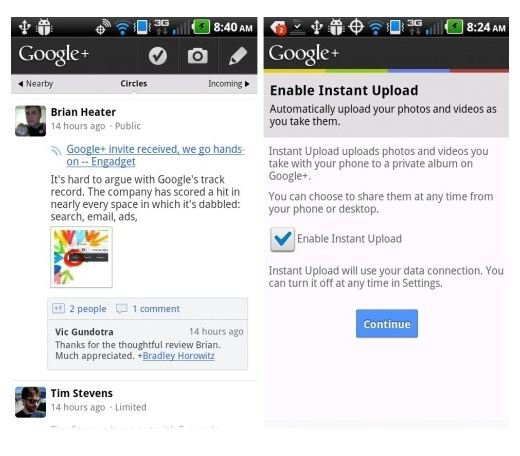 The web has reacted to Google + as if Justin Beaber just released a sex tape with Oprah and Lady Gaga. People are fainting all over the place and oxygen is desperately needed. But is Google +, and its accompanying Android app, worth all the hype? Watch our hands-on video and read the accompanying review to find out.
The home page
The Android app looks a bit spartan at first glance. The first thing you notice are icons indicating "Stream," "Huddles,""Photos,"Profiles," and "Circles." There's also a black bar at the bottom which indicates "notifications." That's where you'll find invitations to chats, friend requests (or however Google is calling it), and little notifications when there are new photos have been uploaded-
Streams
Clicking on the "Stream" button brings you to a news feed containing your updates as well as the updates of your friends. Within this stream, you can search for updates that are happening nearby as well as updates that are "incoming," simply by swiping your finger to the right or left. This is a handy feature that allows you to easily sort which updates you see and when, and the location-based updates could be especially helpful if you have friends nearby and want to communicate with them.
Circles
Clicking on someone's face brings you to their profile, pictures, and posts, and then you can choose to add the friend to a specific circle like "drinkin' buddy' or "people that remind me of Hank Hill on King of the Hill" or "People I haven't seen since High School," or whatever, really.
Photos
Clicking on the photos icon from the home page brings you to all of your photos. Shocking, I know. But one thing that's cool about this feature is that all the photos are arranged chronologically. You can then pick a photo to share with other people. And don't forget, the Instant Capture feature allows you to program your phone to automatically save photos to an album in a cloud, which is a pretty awesome feature as well.
Huddle
Finally, there's the Huddle feature, which allows you to have conversations with groups of people. Huddle is actually downloaded seperately with the Google + App. For some reason, whenever we tried to use this function, the app force closed on us! Hopefully we'll get it working soon, though, because we would like to have group chats on our Android.
Settings and Instand Uploads
Taking a look at the settings, you'll see all the usual sorts of options for alert types, as well as the settings for Instant Uploads. Here you can choose to upload all of your photos from your phone to a cloud high, high in the sky (or a server in Mountain View) at the click of a button.
Our conclusion:
We're pretty happy with this app! It was super easy to learn how to use, very slick, fast and had a few features (like cloud uploading, location-based streams, and a group chat) that the Facebook app doesn't have. We look forward to reviewing the Huddle feature soon, as well, once we figure out how to get it to work.