Panasonic's "Fearless" Android Toughpads Are Built for Extremes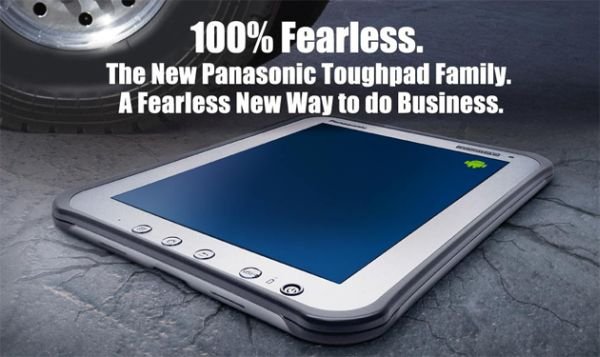 Panasonic released a new advertisement for its "fearless" Toughpad this morning: a $1200, water, sand, and drop-resistant Honeycomb tablet device with a 1.2GHz processor. The tablet is said to weigh 2.13 pounds and have a 5MP rear-facing camera and a 2MP camera up front. Other than that, it'll also come with 16GB of storage and 1GB of RAM.
But few people will be buying this tablet for the processor speed and RAM. This is a Toughpad, after all, built for tough environments. On that end, Panasonic is saying that the tablet can be dropped from 4 feet without a scratch and can operate in environments anywhere from 14 degrees to 122 degrees Fahrenheit.
Panasonic is clearly going after the construction workers and the businessmen with these devices. The Toughpad is enterprise-ready, meaning multiple tablets can be managed from one administrator. But it's rugged enough to be used in a high-risk environment, like a construction site.
I'm not sure how smart it is to launch such an expensive tablet in times like these when the Amazon Fire is selling for literally 1/6th the price with similar internal specs. But since Panasonic is fairly well-known for their tough devices – having launched the original Toughbook laptop in 1996 – perhaps this is a smart strategy.
Are you in need of a super-rugged $1299 Android tablet?