Panasonic's Toughbook Tablet: The Perfect Gift For Your Pet Tiger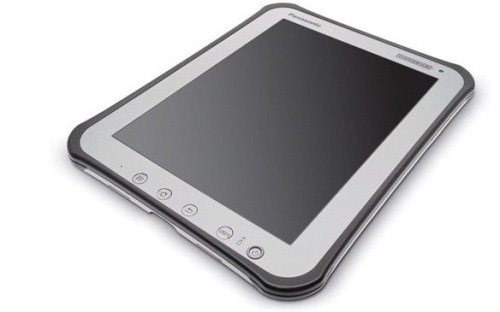 Hello, we are an infomercial. Are you tired of those typical tablets that don't work in direct sunlight? Do you wish you could run over your tablet with your car or drop it off a skyscraper? Well, you can definitely do the first thing with the new Toughbook Tablet from Panasonic. Not sure yet about the other two things.
Panasonic's new tablet, aimed at "mission critical government personnel, highly mobile field forces, SMB's looking for a competitive edge, security conscious IT managers and bottom-line focused CFOs," (Phewwwww!) also will come with a stylus, to which we respond: Woohoo! Maybe they'll even come up with some sort of innovative programs for said stylus, rather than previous boring notepad options.
In all seriousness, this tablet looks pretty rad. We're so sick of the glare on our other tablet screens that we'd she'll out a bit more for direct sunlight viewing. Panasonic's Toughbook brand is already well respected, and we think these tablets will do very well because of that.