 Poll: Tablets and Phones Used While Watching TV, eBooks in Bed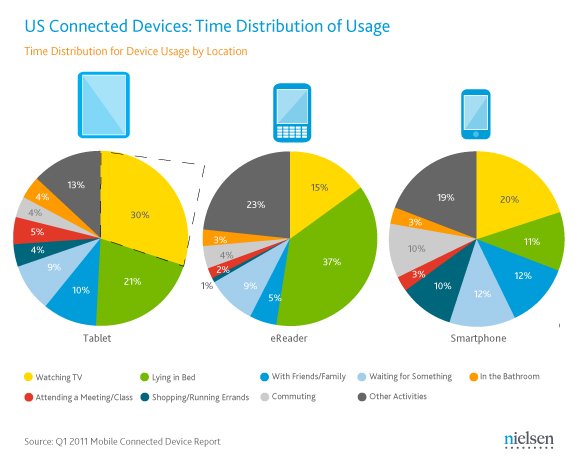 When it comes to multitasking, we like the combination of two screens: the television and the tablet.
This was what Nielson found in their survey of 12,000 tablet and eBook and smartphone users. Respondents were asked a series of questions about when they used their devices: While commuting? Shopping?
Sitting on the toilet?
Not so surprisingly, smartphone users were more likely to answer that they used their devices during all of the above: the pie graph representing activities during smartphone use was far more evenly sliced than the activity pie graph for any other device. eBook readers, on the other hand, responded that they mainly used their devices in bed; this section of the pie chart received a whopping 37%.
Respondents were far less likely to use their tablets or eBooks while shopping than they were to use their smartphones, meaning advertisers to users on-the-go will likely continue to primarily target smartphone apps.
eBook advertisers? Guess they'll need to sell sleeping pills.