[Predictions] What Will Happen to Tech Crunch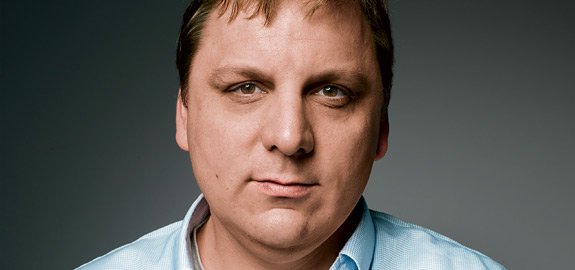 (Tech Crunch's Michael Arrington)
"Tech Crunch As We Know It Is Over."
This was the headline penned by Crunch writer MG Siegler on Tech Crunch's website a few days ago. Siegler was referring to what has become, by now, one of the most publicized newsroom dramas since News of the World came crashing down in fire-y flames a few months ago.
At the heart of the scandal is the fact that Tech Crunch's head honcho Michael Arrington (who may not be the head honcho anymore) decided to create his own investment company called Crunchfund, which would fund the same struggling start-ups that Tech Crunch writes about.
Writers like David Carr at the New York Times, understandably, cried foul. News organizations can't cover the subjects they fund, Carr argued, since this is obviously a huge conflict of interest.
For the bad publicity, and poor choices, AOL, which owns Tech Crunch, threw Arrington out of the company, saying that Arrington, and his huge pot of investment money, have no place at Tech Crunch.
Now Arrington is supposedly issuing an ultimatum: either give the site editorial independence or sell it back to its original shareholders.
All of which is confusing, to say the least. When the news becomes the news, it certainly generates even more news, but none of this is good news for Tech Crunch. Honestly, all the scenarios I've worked out in my head won't help the company in the slightest. If Arrington simply walks away, Tech Crunch will lose a valuable editorial leader. If it comes under the control of Arianna, she'll probably stay out, but who knows.
In fact, I can see some of the main writers at Tech Crunch like MG Siegler and Jason Kincaid jumping ship to create their own tech news website. If they do so, it'll still be a shame, but I think these writers could pull it off. Certainly, it'll be hard to build a new brand, but these writers have very loyal followings. And maybe they'll pick a better logo this time.
There's no doubt that Tech Crunch is an entertaining read. But readers will stop reading if they get the sense that moneyed interests are directing coverage, even if disclosed. Part of the fun of the site is that it goes after everyone from Zuck and Jobs to AirBnB in the name of honesty and transparancy.
But that could be ending soon. As David Carr writes, "If insiders can trade on the news they publish, readers may become an adjunct to a business that is less about public information than private gain."
I don't think readers will even stick around if that's what Tech Crunch becomes.