 Qik Video Connect Allows Video Chatting Between iPhones and Androids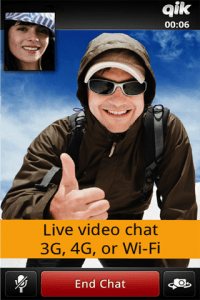 Video chat lovers rejoice! Qik video, which was recently bought by Skype, is now letting more phones connect to their video chat service. Qik Video Connect will now work with some devices running Android 2.1 and up, as well as iPhones, iPad 2's and any iPod touch with a camera --- allowing Android fan boys and Apple heads to argue about which is the better device in full color video.
You don't need 4G or 3G to connect to the service; Wi-Fi works just as well. And if you can't connect to your friends live, you can also send them video mail -- even if they don't have the Qik service.
Other apps that allow live streaming on Android include Justin.TV and Ustream. But until Fring joins the frey with its promised group video chat, Qik is the only one to allow live video chats. As an added bonus, the app is free this week ($2.99 after that).
Give it a try and let us know what you think!