 Remote-Control a Car with Your Android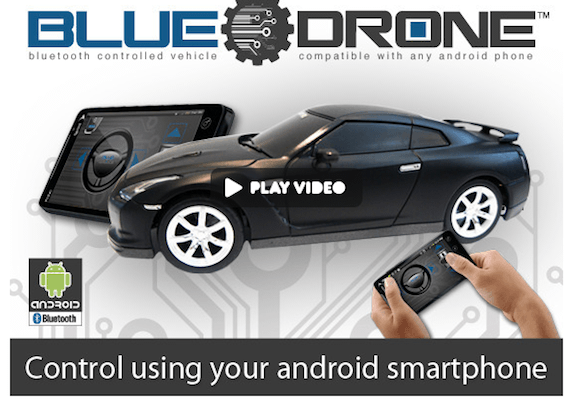 Would you buy a model car you can control with your Android? What if it was available for just $59? A company called Blue Drone is attempting to raise the funds necessary to release an Android-controlled model car. Here's what their page on Kickstarter says:
"BlueDrone is a bluetooth-controlled r/c car that can be paired and controlled by using any android smartphone or tablet (android 2.1 or greater). You control the car with standard touchscreen controls, or even use the accelerometer for motion-based controlling. Enjoy three hours of battery life (3x AA batteries), 30ft range, responsive steering, and a powerful motor."
The idea I find most impressive is using the Android's built in accelerometer for "motion-based controlling." It would also be cool if the app included other features that take advantage of Android's capabilities. What if, for example, the car had a camera you were able to watch on your Android? Or what if you competed in certain virtual racing challenges on your Android while controlling your real-life model car? Seems like there are some capabilities not being explored here.
BlueDrone is attempting to raise $200,000 in 26 days, and it looks like they may need your help since they've only raised around $400 so far. If you feel like chipping in or pre-ordering a model car, click here.