 [Review] Bouncy Mouse: Meet Your Newest Obsession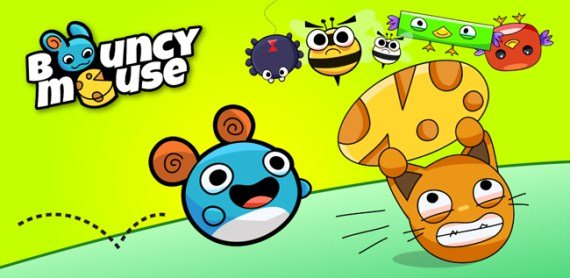 When it comes to creating an addictive game, you've got to have a little bit of everything; a pinch of adventure, a dash of physics, stirred with great graphics and music. Does Bouncy Mouse have what it takes to inspire devotion and a rabid fanbase? Read on and find out!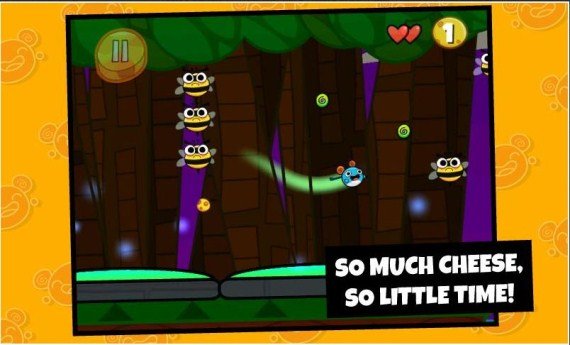 How to Play
Bouncy Mouse is a Tamagachi-looking round little mouse on a string. When you sling him into the air, he grins like a maniac. There's a lot of slinging in Bouncy Mouse – perhaps even more so than in Angry Birds – as you send this little rodent over water, through rock formations, and between bees. Along the way, you collect round barrels of cheese placed strategically within shooting range. Following the cheese leads you to the cat – mortal enemy #1– although it also takes you through slight detours into cheesey paradises filled with cheese.
Your mouse is quite speedy character, and if you aren't careful enough, you can accidentally send him (or her, I don't know) barreling into the sky or water. Just in case you were wondering, you can die from hitting a bee, landing in water or catipaulting yourself into the nether-regions of the screen. But what's nice is that, in this game, you have more than a handful of lives, giving you plenty of chances to mess up. There also aren't any time limits in Bouncy Mouse, and the game does not reward speedy players, so you can take your time meandering through the different levels.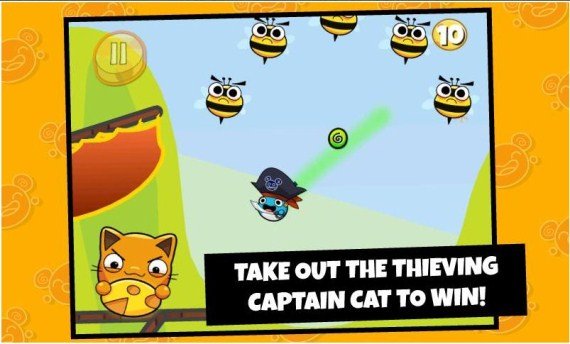 Worth a Download?
Bouncy Mouse reminds me of Cut the Rope mixed with a little bit of Sonic the Hedgehog. Besides the sling-shot motion, there are no other similarities to Angry Birds, as destruction is not the ultimate aim of this game. But all the sliding through barrels of cheese reminds me fondly of Sonic speeding through those golden rings.
Bouncy Mouse is a very fun game – I nearly missed my deadline because I couldn't stop playing – and its got an expansive feel to it that Angry Birds can't touch since you are progressing through different environments. I found the ads at the bottom of the screen intrusive but, apparantly, an in-app purchase easily lands you an ad-free version. There seem to be more than enough levels for hours and hours of challenging gameplay, and more levels are promised for the future.
This game is definitely worthy of a download, especially since it's available for zero dollars. Happy bouncing to all!