[Review] "Cut the Rope" for Android – Silly, Fun and Completely Addictive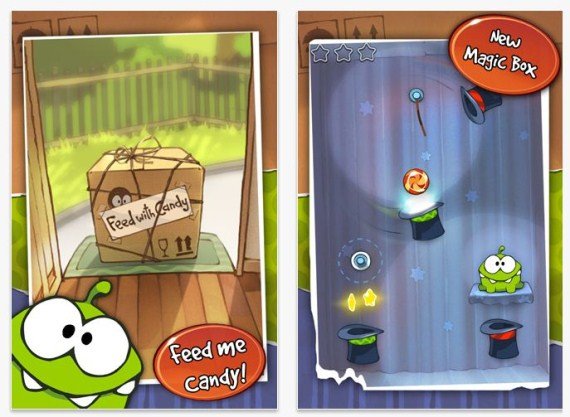 "Cut the Rope" is a premium game that has been around for a pretty long time for iPhone users. As part of Apple's App Store, the application has racked up a pretty astounding 162, 873 reviews with an average of five stars. At WWDC 2011, Cut the Rope even snagged an Apple Design Award.
The object of the game's numerous levels is to maneuver a piece of candy into the mouth of a cartoon monster named Om Nom. Om Nom sits on a platform hovering somewhere on the screen with cartoonishly large eyes and a silly grin, and you have to cut ropes, blow air, pop bubbles, and swing the piece of candy to make it to his mouth. For some reason, all of this takes place in a cardboard box, where Om Nom has set up camp. How he stays alive on mere candy is anyone's guess, but, like Plants vs. Zombies, the point isn't to analyze but rather embrace the absurdity of the situation.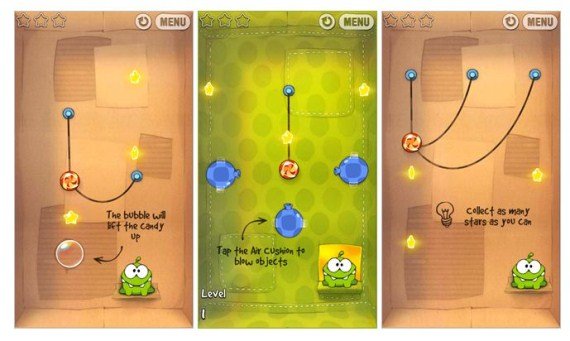 Cut the Rope requires a certain amount of mechanical reasoning and a hefty dose of spacial imagination. You have to plan ahead and think about all the elements on screen that'll help you maneuver the candy into OmNom's mouth before you cut any of the ropes. As the game progresses, bubbles, spiders, air baloons, spikes, slideable rope-pulleys and magic hats are all introduced, but the game does a pretty good job of introducing these exciting new elements in small doses so that you can get used to them before needing to use them in more challenging situations.
One thing I really appreciated is just how easy it isto pass through to the next level without collecting stars. This allows users to advance before mastering certain skills, and gives even novice players a sense of momentum; in essence, you won't be stuck and frustrated on the same level for very long before you figure out a way to advance to the next one.
Overall, I love this game. It is fun, totally silly, challenging, visually-impressive, and is just as enjoyable as a random time waster as a full-time gaming addiction. Oh, and did I mention it's free? Yeah, and the ads were so unobtrusive, I barely noticed them. Go get it!