[Review] Spiffy New Categories and an Improved UI: Android Market App Gets a Facelift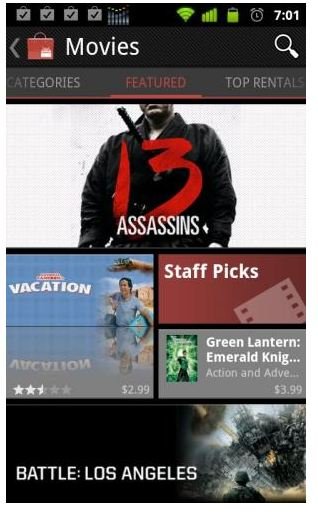 Google just keeps pumping out the hits. Today the company released a new version of Google Market app featuring a tabular design, book and film rentals and new ways of discovering apps, including lists like "Top Grossing," and recently trending applications. Download the APK here, read on to hear my review and let me know what you think of the changes in the comments section below.
User Interface
The UI of the new Android Market has been compared to the tabular design of the Windows phone (and not favorably) but I appreciated the larger banner styles and the fact that not everything appears in a boring list format (though, understandably, all those big pictures makes the app take a bit longer to load). It's also nice that, just like on the Google+ Android app, I can scroll through menus by flicking my finger to the left or right...not just up and down. If you're having trouble with this, make sure you're swiping at the top of the screen. Anywhere else doesn't seem to work.
Book and Film Rentals
I wasn't even able to access the movies page on my app because I'm outside the U.S. The category "Media and Video" just brought me to media player apps. I wonder how long it'll be before Google expands this rental service internationally. Knowing how protective film distributors can be, I'm betting it'll be awhile.
So far, the new "Books and Reference" section seems to be populated by Bibles, Qurans and, strangely enough, sex reference books (quite the combo)! Where are the best sellers? Perhaps this is another feature that isn't fully operational internationally just yet.

New Categories
Some of the new categories, like "Live Wallpapers" are very welcome. Others, like "Libraries and Demo," seem a bit random. Having instant access to "Top Grossing," "Top New Paid," "Top New Free," and "Trending" apps is helpful if, like me, you want to keep up-to-date on the apps that are selling well at the moment.
Conclusion
In conclusion, a few of these updates are quite welcome and the UI is certainly more aesthetically pleasing than it was before, but we won't know the full impact of this update until we are able to download films and books from our phone.
Below you can see a preview by Google as well as a hands-on demonstration of the app by our friends over at Phandroid.
Let us know what you think of the changes below!