 Is the Galaxy Nexus Just for Nerds?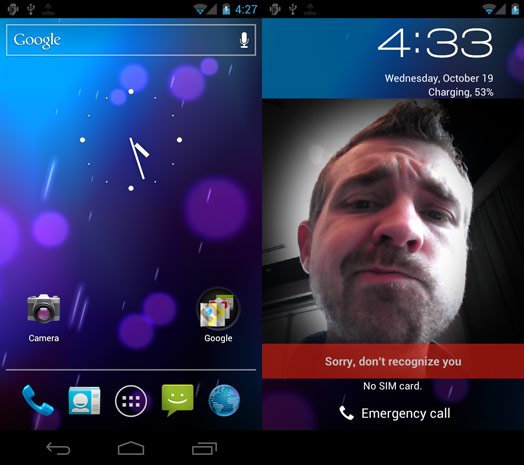 (Only Android nerds allowed?)
This weekend I was the lucky owner of a brand new Galaxy Nexus test unit. I loved playing around with Ice Cream Sandwich, showing off "Face Unlock," bumping phones with other lucky Galaxy Nexus owners to initiate Android Beam and reveling in all the minor-yet-significant stylistic changes to the UI. And yet, I found myself wishing there was something more to the phone – something that would allow me to instantly and emotionally connect me to it.
Techies (and I mean that word in a very positive sense) would like to argue that phones are about processing power, gaming performance, beautiful displays and amazing battery life, but much of the population buys phones based on a few wow factors which elevate these phones above the realm of their competitors. For the iPhone, it's Siri. But what Android feature could Google sell to the smartphone-averse which proves its superiority with style and ease?
Missing wow-worthy moments
I wish I could say I'm a total Android convert, prosthletyzing the benefits of the newest Google superphone to the masses, but I found myself missing a certain "je ne sais quoi" when playing around with the Galaxy Nexus. Sure, the changes to the way one scrolls through homescreens, monitors data, adds widgets and searches the web have been fundamentally altered. And yet these series of UI tweaks, for some reason, do not add up to a completely compelling experience.
There are certain fun features that draw me in, however. The funny faces one can create using the video camera are one. Here is a diversionary Google feature that the company probably cooked up in a few weeks that actually does provide a wow factor for the masses. Somehow the video function can track my head movements and continually alter my facial features. It's the kind of thing one could actually imagine showing off to friends and getting a lot of oohs and ahhs.
And perhaps that's my entire beef with ICS – I want my friends to understand how great it is, but the Galaxy Nexus doesn't have enough requisite wow-worthy features for me to show off. It gets the job done with style and panache but none of the emotional appeal of a feature like Siri, who appears to be some sort of robot slave sent from heaven.
We want to have an emotional connection to our devices
Google certainly knows how to create an emotional connection. Their Google Chrome ads are legendary. Just today, the company released a report on the Google Zeitgeist – the top searched-for stories in Google Search, as well as a deeply satisfying round-up video with backup music provided by U2. It struck so many good notes. But a Google phone isn't nearly as entertaining and emotionally-satisfying.
To elevate their Nexus phones and operating systems above and beyond the realm of the nerds, I think that Google will have to think much more about features that are even more impressive to the casual smartphone user than Face Unlock and Silly Faces.
These features will need to be emotional in nature. When Siri responds to you like she's your friend, that's an emotional connection. Likewise, when the Galaxy Nexus asks you if you'd like to text someone back "I'm busy" rather than picking up the phone, it's like a friend offering to write a note on your behalf. We desperately need more of these features on Android.
We connect through our devices, but we also connect to them. The faster Google realizes this, the better.