Samsung Galaxy Tab 7.7 Clears FCC With New Benchmarks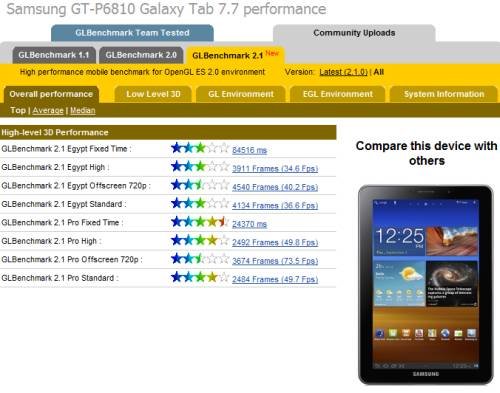 We got to play with Galaxy Tab 7.7, the latest entry to the Samsung line of high-end Android Tablets, at this years IFA in Germany and lordy, lordy is that display impressive. But many American fans antious to get their hands on the crisp SAMOLED display, we left out in the cold by Samsung's lack on interest in a US launch. But for all of you willing to shell out some serious coin for a display so good that Apple had to go and get it banned from Germany, there's good news. The Galaxy Tab 7.7 has been shown up on the FCC website meaning a US launch could be right around the corner.
While a registration with the Federal Communications Commission doesn't guarantee an American release, it is the first step toward bringing Samsung's latest Android tab to American shores. For all those not in the know, all devices with wireless capabilities have to be registered at the FCC first before they can become commercially available, meaning Samsung could be planing on bringing the 7.7" tab to the US despite continued legal pressure from the Cupertino Defense Front (i.e. Apple)
To coincide with the Galaxy Tab 7.7's shiny new FCC seal of approval, new benchmarks have hit the net, which show that the Galaxy Tab 7.7 is faster at many tasks then anything with a 1 GHz NVIDIA Tegra 2 processes. Of course I don't like to use the Apple as eternal standard of measure for all things 'tech', it's interesting to note that the iPad 2 graphically out paces the Galaxy Tab in most contests. I've personally used both devices and I have to say even though the numbers seem to indicate that the iPad 2's display is the more powerful of the two, the Galaxy Tab 7.7's rich colors and graphical quality literally made me gasp the first time I turned it on. This is a tribute to Samsung's SAMOLED technology, which at least for me personally, can't be match by anything Apple is currently putting on the market.