Samsung Makes Fun of the Apple Cult in Latest TV Spot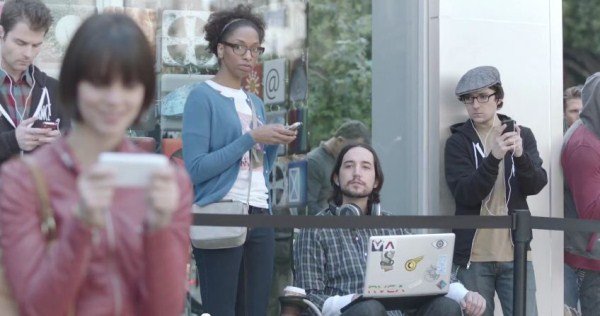 In the midst of an epic war over patents, Samsung has managed to keep its good humor. Exhibit A: this hilarious new commercial which manages to toot Samsung's own horn and make fun of the Apple cult in under 60 secounds.
In this latest Samsung advertisement, a bunch of folks waiting hours upon hours on the street for the "new" iPhone 4S begin to get restless and doubt their decision-making ability once they see someone walking by with a Samsung Galaxy S2. "What is that, a Samsung?" a woman asks. "I could never get a Samsung," a bearded, plaid-shirt-wearing gentleman declares, "I'm creative." To which his friend replies, "You're a barista!"
The message is pretty clear: brand names shouldn't mean as much as performance when it comes to new phones, and the iPhone 4S isn't nearly as innovative as the latest Samsung device. We think this ad is pretty effective in getting these points across. What do you think?