Scalado Remove: A Photo App That I Would Kill For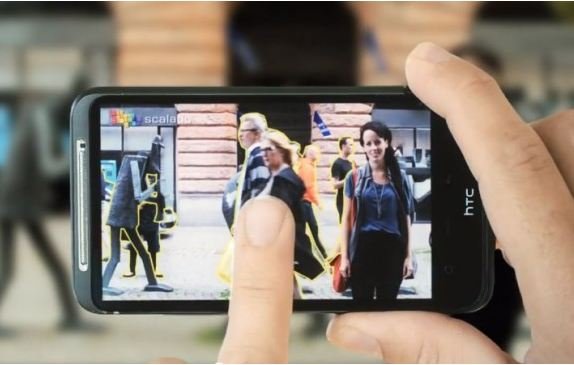 So you're in Paris, about to take a photo of your friend in front of the Eiffel Tower when some bozo wearing a big white t-shirt steps between you and your subject. What do you do? Take another photo? But the moment has passed! Now there are clouds gathering on the horizon and your friend is tired.
There's an app for moments like this.
Today we learned about a really cool new app called Scalado Remove. The program captures several images in a row, analyzes them and automatically creates a composite photo without the unwanted and unsightly details. Even better, Scalado Remove allows you to remove individual elements after the photo has been taken:
(See the "x"es? You can remove these elements from the photo after its been taken.)
Obviously, this is amazing. I would kill to have this on my phone right now. I can't count the number of photos I've had to take over and over again until my subject's energy was drained. It looks like the application acts as a kind of burst shot, but then analyzes for various factors after the photo is taken to remove the offending elements. I'm guessing it analyzes things like depth in order to understand which elements in the frame are part of the scenery and which elements are unwanted obstructions.
According to Engadget, the program works quite well for a prototype. I don't know about you, but I'd kill to have this feature on my phone. Hopefully we'll learn more about this technology at the Mobile World Congress later this month.