 Sensics 3D Goggles Hands-On Video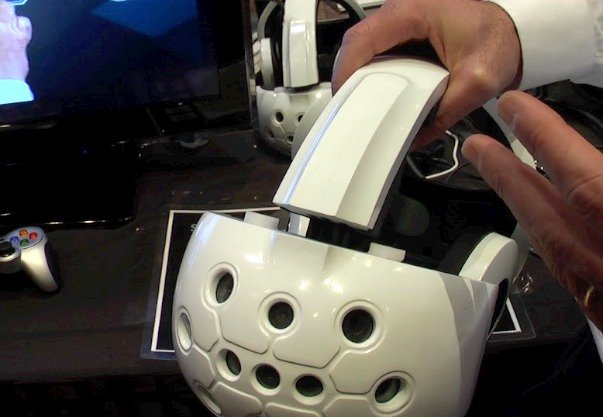 What you are seeing is not a prop from a Star Wars film, but rather a device that allows you to control games using...your head. Currently, this is still a prototype and the manufacturer, Sensics, was at CES to find partners for assisting in the development and marketing for the device.
The helmet contains a 1280 x 1024 display, as well as stereo surround sound and 3D. The device runs on Android and is powered by a 1.2 GHz dual-core processor. It can run any app for Android. As the spokesperson said, "consider it an Android tablet for your head."
I myself had a chance to use the device. The prototype is still relatively heavy, which is a bit awkward considering the fact that the game is controlled by using your head. Sensors in the helmet can also be intuitively controlled by your hands. The current demo game was anything but smooth and the helmet felt like lead on my head. However, should the weight be lessened and the kinks worked out, this is a fun device that I can imagine doing well in the high-end gaming market
Basically, I believe that such an augmented reality device can be great fun. However, the current screen resolution was just not impressive enough to offset the weight.
I would have prefered a simple pair of glasses, but I'm curious to see what comes of it....