 Smartphones Outship Feature Phones in Europe, Samsung Leads the Pack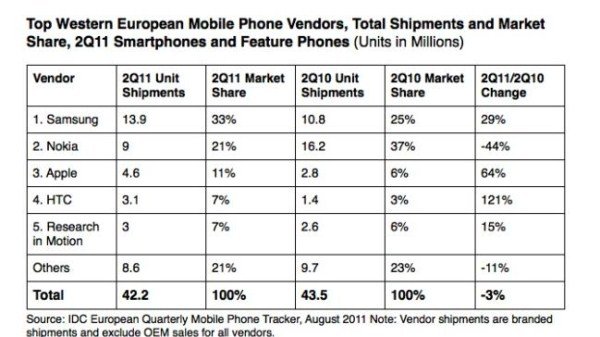 Smartphones are now out-shipping dumb phones across the entire European continent, according to a new report from IDC. According to the company's statistics, only 20.4 million feature handsets (without Internet) were shipped to Eurasia during the second quarter of this year; a 29 percent decrease from Q2 in 2010. Quarterly shipments of smartphones, on the other hand, increased by 49 percent to 21.8 million units.
Certain manufacturers are riding the smartphone gravy train to moneytown, especially Samsung. Sammy's market share has increased from 25 percent in Q2 2010 to 33% in Q2 2011, an increase of 29 percent – even as the total number of new phones purchased actually decreased. Nokia's market share, meanwhile, has halved in just a year, from 37 percent to 21 percent. Apple's share grew 60 percent while HTC's grew a whopping 121 percent (now would be the time to buy HTC's stock methinks).
Android's growth has been tremendous. IDC has recorded a 352 percent year-to-year increase in shipments.The only loser in this chart is Nokia, which seems to be riding the sadtrain to povertyville, pop: 1.
Related to Smartphone Growth:
500,000 Android Phones Activated Every Day, Outpacing Global Population Growth
Android Now Rules the World – iOs Gets Cozy in Second Place