Sony Xperia S's Camera Put to the Test!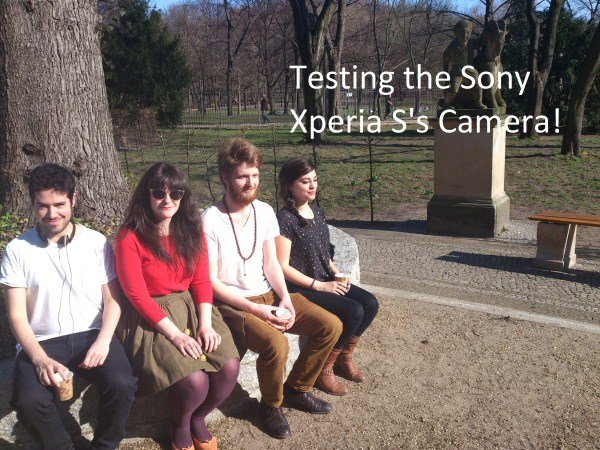 Sony Xperia S came by mail to us at AndroidPIT and when it arrived I could only think of one thing: I must test this phone's camera! 12.1 megapixels is a crazy amount of pixels to pack into a phone's camera, and it's something that really distinguishes this phone from its competitors.
Sony's camera credentials are long and impressive; this is the company, mind you, that is responsible for making the sensors inside Nikon's DSLR line as well as its own Alpha and NEX series of digital cameras. So we weren't exactly shocked that the Xperia S's camera was great.
While there are plenty of folks who will complain that the phone isn't running the newest version of Android and has awkward buttons, we decided to focus on this smartphone's strengths by thoroughly evaluating its camera.
Now, I don't know about you, but I'm a little tired of the standard website's camera samples: "ooh, a flower!" "A stack of books!" So we decided to test the camera in a bit more creative fashion by taking to the streets of Berlin to see how well it stands up during night time action shots as well as daytime shots.
Stunning Photo Mode:
The first part of the video is dedicated to the still camera. Shots taken outdoors without flash, editing or filters, naturally. And I must say that the result is quite stunning, with vibrant colors and a quick and accurate zoom. Of course, a digital zoom pales in comparison to an optical one, so don't think this phone will be able to replace your DSLR. Although the device does not allow a burst mode, it captures and saves photos so quickly that you can easily piece together a stop-motion film, which we placed at the beginning of the video.
The goal was by no means to advertise the Xperia S – Wes Anderson is already doing that quite well. Our goal was really to show you what you can get out of the camera if you're a user who wants to take photos of your day-to-day life, maybe embarass your friends by posting videos of them on Facebook (90% of us). Several friends from home have asked me what it's like living in Berlin, so we decided to take the phone out for a night on the town, Club Maté in hand.
Video Mode Decent, But Limited:
Even though the video mode is easy to use, the night mode is a bit flaky. Even with the Exmor R sensor – intended to "illuminate the darkness" – according to Sony, the lack of light makes images blurry, as might be expected. Another slight concern is the lack of an image stabilizer: if you slightly move the Xperia S while holding it in video mode, the image jumps a lot. But with the right lighting, the video quality is quite good: just check out the tipsy "contemporary dancers" in the subway to see my point.
Overall, the Xperia S has a more than satisfactory camera. Unlike many of its competitors, the smartphone supports full screen mode. 4.3-inch HD is quite impressive.
Bravo Sony, I'm sure it was not an easy task to provide such a high quality camera on a smartphone. While the video mode could be improved through image stabilization and a better night mode, I'm sure the manufacturer is working on a camera phone even more audacious.
Enjoy the video below!
Big thanks to Anna and Leila at the French team for putting the video together and Kamal for his brilliant soundtrack. Dream team!