 Sony and EA Bring Xperia Play Owners 4 More Free Games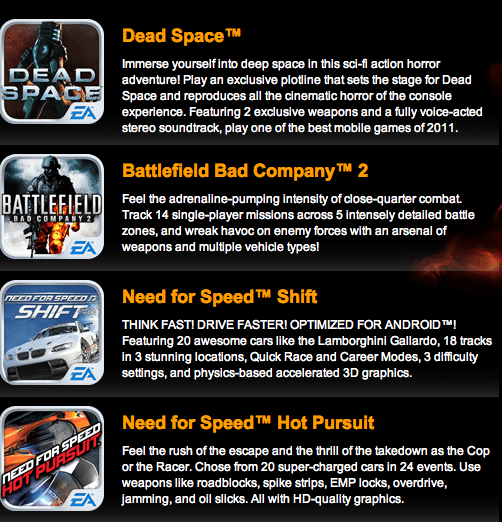 The Sony Xperia Play already comes with six games pre-loaded – including Fifa 10, Crash Bandicoot, the Sims 3, Star Battalion and more – but if six weren't enough for ya, Sony is partnering with EA to bring you four more free titles.
The additional free games aren't half bad, either.
For exactly zero dollars, Sony gives you access to Dead Space, Battlefield Bad Company 2, Need for Speed Shift and Need for Speed Hot Pursuit.I haven't played Battlefield or Dead Space, but I can confirm the awesomeness of the Need for Speed games.
If you already own an Xperia Play, simply hit the source below and scan the QR code for your free downloads.
Related:

Sony Ericsson Xperia PLAY ads show what happens when you mix Android and drugs

"Xperia Play Is Selling Well"...No, Duh!

Advertising FAIL: Sony Xperia Play's New Ads Are Just Plain Creepy