Spotfity Updates: Motorola Named Exclusive Partner, New Ad and List of Compatible Android Devices Released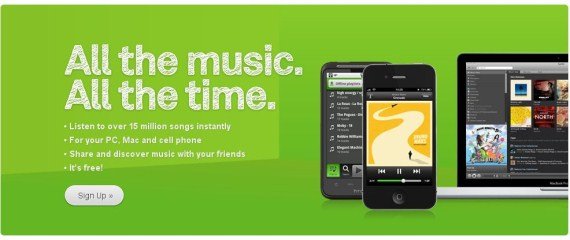 If you haven't yet friended Motorola on Facebook, you may want to consider doing so now. The smartphone manufacturer is Spotify's official partner and that means, you guessed it: exclusive deals. The company won't get too specific but is claiming to have exclusive dibs on the first free Spotify memberships.
If you signed up to receive a Spotify invite, don't worry just yet. You'll get one soon enough. But if you'd like to use the service quicker, it looks like the other way to gain immediate access is by signing up for an unlimited or premium plan.
For a teaser trailer and list of compatible Android devices, click below:
List of compatible Android devices:
HTC Desire
HTCDesire HD
HTC Desire Z
HTC Dream,
HTC Hero,
HTC Legend,
HTC Magic,
HTC Tattoo,
HTC Wildfire,
Google Nexus One,
Huawei U8220
Huawei U8230
Huwaei U8300
Huawei Ideos U8150
INQ Cloud Touch
LG GW620
Motorola XT720
Motorola Cliq
Motorola Cliq XT
Samsung Galaxy
Samsung Galaxy Tab
Samsung Galaxy 3
Samsung Galaxy S
Samsung Galaxy 5
Samsung Spica
Sony Ericsson Xperia X8
Sony Ericsson Xperia X10
Sony Ericsson X10 Mini Pro
Sony Ericsson Xpera X10 mini
XTE Blade