Spotify Teases with U.S. Icon, Launch Imminent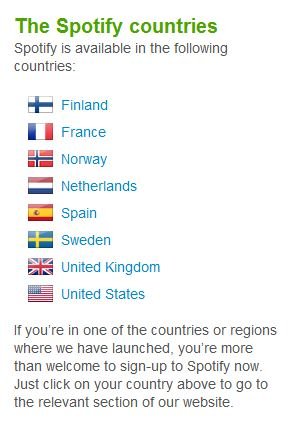 Spotify, the streaming music player sent from God, is just a few hours away from being launched in the U.S. And while it may not be available just yet, the United States icon is already listed under "The Spotify countries." Clicking the icon lands you on an error page but we still find this exciting!
Here's what Spotify's chief content officer Ken Parks had to say to Engadget about the final hurdles left to clear before release:
We were really adamant about bringing the service to the US, which means a really great, free experience. We wanted to be really careful about the way we did this, and the rights holders felt the same way. It took some time, but we're absolutely thrilled that all four major labels and a ton of indies are behind us, and we'll be bringing that Spotify experience to the US tomorrow.
Once the service goes live, customers will have the option of downloading a free, ad-supported version right away, or they can shell out $4.99 a month for an ad-free version or $9.99 a month for a mobile-supported version (for Android and iOS).
I had the chance to play around with Spotify on a trip to Sweden and I can tell you, it deserves all of the hype. It is like someone took all the songs from iTunes and made them streamable. Better yet, the software makes fantastic artist and track recommendations; you can start with a favorite artist and it'll recommend tracks by other artists that you'll love. It's also a piece of cake to add songs to your queue and the software is super smooth and responsive. I've wanted to download it ever since I tried it out.
This is a big win for music fans across the country.
UPDATE. Spotify has arrived!