 Sprint Raises Their Early Termination Fee – See Which Carrier Still Has the Lowest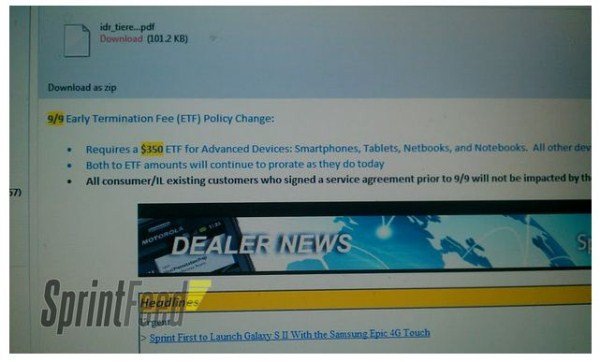 When it comes to early termination fees (ETFs), Sprint's used to be quite reasonable. If you wanted to break your contract more than 5 months before it was officially over, you'd incur a $200 charge – about the cost of buying a fancy new smartphone on contract.
But not anymore.
Following in the footsteps of Verizon (whose early termination fee is $350) and AT&T ($325), Sprint has raised its early termination fee to $325, according to a screenshot leaked to Sprintfeed.com. That's a lot more than what it used to be, but fairly standard in this marketplace. The new fee won't come into affect until September 9th, so if you'd like a contract with a more comfortable emergency exit slide, you'd best sign up now.
With this change in effect, the carrier with the easiest-to-swallow early termination fee is T-Mobile, which can be as low as $50 one month before the end of contract and is, at most, $200.
Competitive ETFs are just one more reason why we need more carriers in the marketplace and why the AT&T-T-Mobile merger is a bad idea.