Starbucks Suddenly Realizes Android Exists, Creates Coffee-Buying App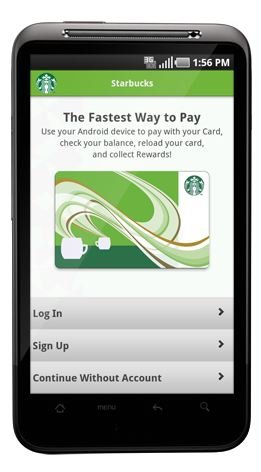 We can't help but serve up a bit of cynicism with this Chai latte. Starbucks has released an app for Android, and it basically does what the app for the iPhone did. Nothing more, nothing less.
How is this news? Well, I guess it's not, unless you've never played around with the iPhone app. The Android app allows you to pay with your phone (if you've got money on your Stabucks card), check your balance and track your stars in the rewards program. This is a helpful app if you'd like to get some mileage out of your heavy caffeine intake and speed through check-out.
The app doesn't use NFC. Instead, tapping a drink presents a barcode that can be scanned at the counter.
So, okay...you're a smart one, Starbucks. This app will probably do verryy well. But we're biased. We can't help it! We know hating Starbucks has become almost a national past time, but we've gotta put our two cents in: your coffee stinks.
Disagree? Break out the nunchucks and comment below. I'm ready for you. :)