 (A bit too comfy at the top).
First, a little history:

Last Wednesday, two researchers released an open source application called iPhone Tracker that pulls data from a hidden location history database contained in your iOS device's backup files saved on your PC. In English: they found a way to watch the iPhone track you.
The app can plot this information on a map, allowing you to see where your phone has been over the past year. iOS devices have been building this location database ever since iOS 4 was released last June.
A firestorm, then questions:
Privacy advocated fumed. "The iPhone is tracking you!" read headlines everywhere. Immediately thereafter, a few articles were released pointing out that Android tracks users as well, although, unlike on the iPhone, the phone allows for this function to be turned off.
After the dust had settled, a few tech journalists began asking the more sensible questions like, "What is Apple actually using this data for?" and "Can the feature really not be turned off?"
Alex Colon at PC Magazine claimed that he was able to turn off the feature on his iPhone by disabling Location Services, which makes it seem that tracking for both the Android and iPhone are easily disabled.

Updates like this from calm experts made the whole brouhaha over privacy concerns look overhyped, and yesterday Steve Jobs said as much. In a terse message on the message boards of Mac Rumors, he wrote that the iPhone doesn't track anyone. "The info circulating around is false," he wrote to a concerned iPhone user. And to the claim that Android doesn't track users, he wrote "Oh yes they do."
Too little too late: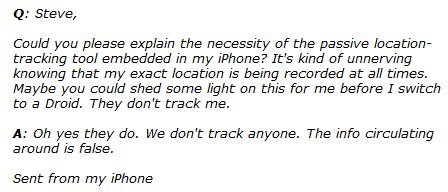 (Steve Jobs being all cagey and condescending).
But this is some seriously obnoxious bulllshit on Jobs' behalf. Responding with three sentences to a serious claim of privacy invasion is supremely condescending to the millions of people who own iPhones. Whether or not the feature is disable-able and whether or not Android is tracking you too is irrelevent to the issue at hand: Apple's guilt. And the iPhone does track users, so Jobs' response was a lie at the very least.
The issue of privacy is something that is important to everyone. While stories about the latest scandal may seem overcooked and fearmongering, the basic truth exists that people shouldn't be tracked without their approval, and that approval should be made more explicit than a single paragraph in Apple's warrantee agreement. When you activate "Latitude" in Android, for example, an email is sent to your account notifying you that your phone is now sending location-based information to cell phone towers. This is the very least Apple could do.
Steve Jobs Could Do So Much More:
Jobs could explain how to turn the feature off. He could re-assure users that an update will allow for the feature to be turned off, or for it not to transfer the data to your iTunes, or leave it unencrypted. But, instead, he tried to deflect the blame and focus the media's attention on Android. Android, at least, notifies its users when its tracking them and allows them to easily disable said software.
Listen, Steve: We know it must be hard to run a secret service operation company, man, but you could do a little more to reassure our privacy concerns than the terse few sentences above. We don't think you're evil, necessarily, but your silence on this issue is baffling at the very least, and may be even seen as criminal in the coming months. Speak now or forever hold your peace.