How to Locate a Lost Android If You Haven't Installed a Security App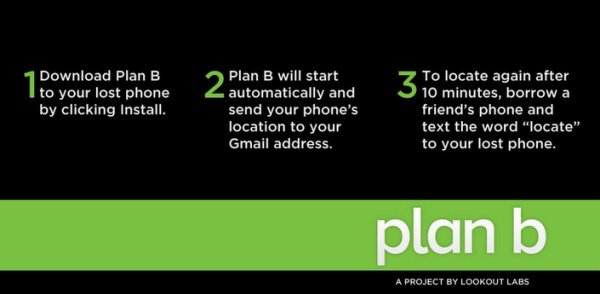 This isn't exactly new news, but for those who've Android smartphones have gone missing, there is hope – even if you hadn't previously installed a security app on the device. An app called "Plan B" by Lookout Labs allows you to remotely install a tracking app and find your lost or stolen smartphone.
Many folks either feel like they're invincible or just forget to download an app that may end up saving their phone. I know from experience how stressful it can be when you leave your smartphone in a cab or on a bus and then beat yourself up for not having installed an app on it so you can later hunt it down.
Plan B automatically starts locating your phone using cell towers and GPS. On some phones, Plan B can switch GPS on automatically. Your location will keep updating for 10 minutes and you will get an email each time it is located, whether the phone is moving or standing still. You can initiate the tracking process simply by texting "locate" to your phone from any other phone.
Of course, successfully hunting down a lost or stolen app requires more than a security app. You've also got to have helpful strangers willing to help you in your hunt and a thief who's willing to turn over the device. But for those who've lost their phone and forgotten to install a security app on it beforehand, Plan B is a godsend.