"Stream Sounds Too Much Like Urine": The Web Reacts to Google +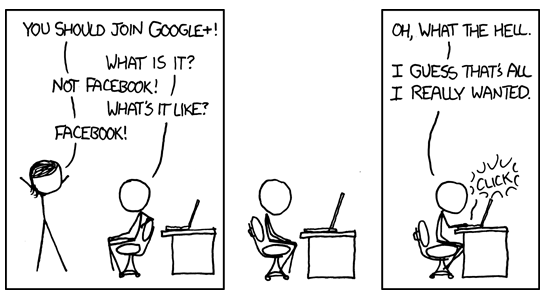 (Comic from xdcd)
Today Googley Bear released their postively-charged social networking site to (much of) the hyperventilating masses. The company has said that they hope their new product more effortlessly replicates the kinds of social interactions we have "in real life" (wherever that is, these days). Is it working so far? We trolled around the internet, and our forum, for first impressions.
Android Addict, on AndroidPIT's Google + thread, writes: "I know that Google + couldn't have copied the words 'news feed,' but a stream sounds too much like urinating. What do you think?" We think he's right, and we wonder what's blocking the stream on our own page (perhaps we should call a urologist, as Addict suggests).
And how are people reacting to the "circles" feature, which allows users to group their contacts by relationship, hair color, or resemblence to Roseanne Bar (I guess that'd probably be just one "vicious circle"). "Call me a hippy, but It feels weird not dragging everyone to the ' Friends' circle," I Tweeted when I was first granted access to the program Many would probably think of me as an exhibitionist, wanting all my private data available to my entire contact list. The Guardian's Charles Arthur, on the other hand, sees Circles as "a clever way to categorise people, and stop what I do or say from bumping into each other." Good point!
As to why the company initially released their platform as "invite-only" and why some people are still lacking access, one AndroidPIT user named Christopher Bailey shared his own insights: "Google is a little gun shy atm, keep in mind they have a long list of failures under their belt..I strongly believe that Google is trying everything it can to make sure the user experience is good. This includes keeping many people out so they can work on bugs as problems arise."
Or maybe they're just promoting technocratic elitism? What do you think?