[Study] In-App Advertising Delivers Steady Stream of Revenue Throughout the Day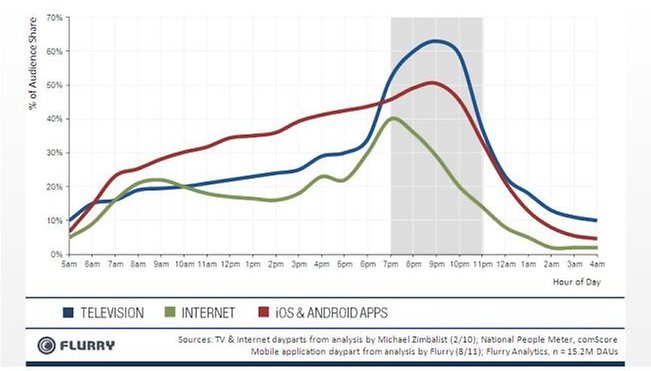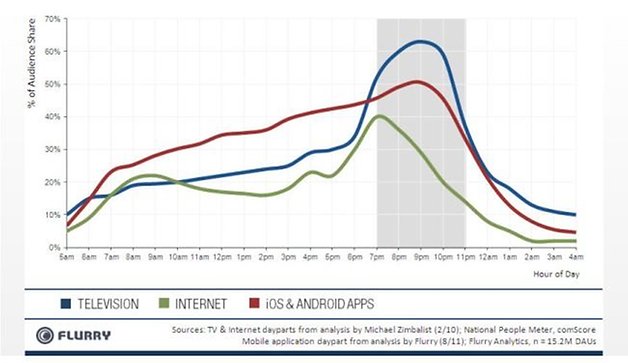 Prime time television, not surprisingly, delivers huge audiences to those advertisers who can afford a 30-second ad on one of the major networks after 7pm. But before American Idol or Law and Order SVU air, the audience for television ads is not so big, since most employed people don't have access to television while they're at work. A new study by a group called Flurry Analytics suggests that advertisers who want a steady stream of viewers throughout the day – not just at night – should take a look at in-App advertising instead.
Flurry Analytics tracks more than 110,000 mobile apps on iOS, Android, Windows Phone, Blackberry and J2ME and they've found that mobile app usage is generally higher from 6am to 6pm compared to TV viewing and Internet usage. The sample used for their study involves assorted popular Android and iOS apps across games, social networking, news, music, sports and communication categories.
Prime quote:
To put the sheer size of the mobile application audience into perspective, consider that the American Idol finale, which airs once per season, reaches approximately 20 million viewers on that day. Mobile apps already reach more than 20 million U.S. consumers per hour, from 7 am to 11 pm. That's already the equivalent of 17 American Idol finales each day, or more than 6,200 American Idol finales per year.

Of course, American Idol is just one show, and there are almost a million apps out there.