 Subscribers Groan Over Verizon's New $2 "Convenience" Fees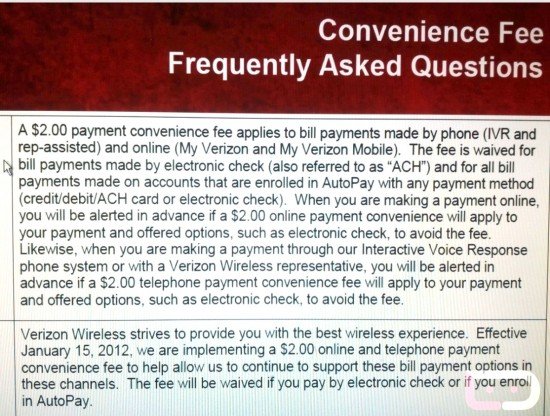 Verizon offers one of the more expensive phone and data plans around and those costs are about to increase ever so slightly. Yesterday it was revealed that Verizon is about to begin charging $2 for each single bill they pay on the phone and online. "The fee will help allow us to continue to support these single bill payment options in these channels," Verizon wrote in a statement online.
The change is set to go into effect on January 15th and already subscribers are quite angry. To me it seems a bit ridiuclous to introduce a billing fee for a method that is completely free with other U.S. carriers. erizon already charges over $90 per month for a plan that includes 2GB of data and 900 Anytime minutes, which is quite a lot. What do you think of this change?