Super Impressive Android 3.1 Update Coming Soon to A Xoom Near You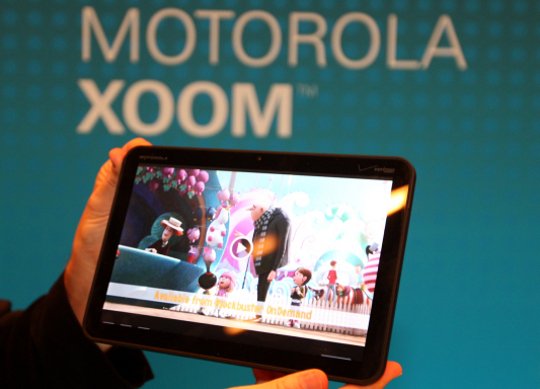 Motorola has officially announced the Android 3.1 update rolling out to Verizon Xoom users. Now it'll be easier to hook up accesseries, watch Market films, customize homescreen widgets and transfer pictures to the Xoom.
Support for the new Android Market movie rentals service
As Android Market expands into the realm of media service, it is essential that the download and viewing process on Android tablets becomes as streamlined as possible. To this end, the new update promises thousands of titles for immediate viewing on Motorola XOOM's high resolution display or on a larger screen via HDMI.
Resizable widgets
Enables you to completely customize your home screen. Widgets now expandable to fill all or a section of a screen.
Full support for the final release of Adobe® Flash® Player 10.2
Brings significant performance enhancements when viewing rich content on the web.
Support for USB-connected peripherals and accessories
Finally! Hassle-free hook-up of keyboards, mice, game controllers and digital cameras!
Expanded Bluetooth features to support Bluetooth headsets in Google Talk™ video chats
'Nuff said.
Picture Transfer Protocol Feature
Enables easier transfer of photo files to your PC without the need for drivers
Motorola says the new and improved Honeycomb will be rolling out to Verizon customers throughout the week. Hit the source below for Motorola's official press release.