T-Mobile Adds Thrifty Plans for the Data-Hungry, Including a $30 Plan with Access to 5GB!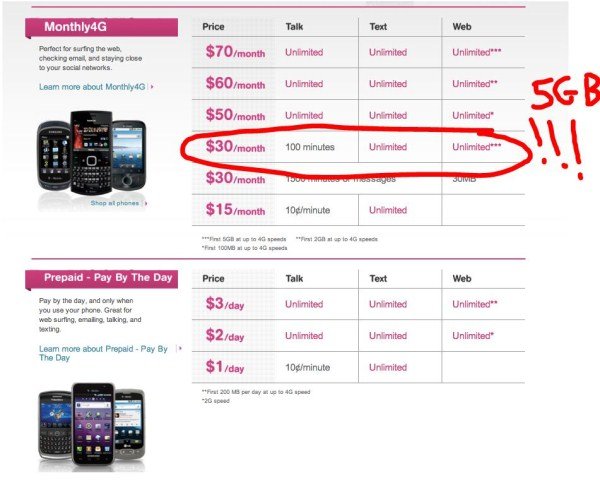 Yesterday, T-Mobile offered up a dizzying array of new prepaid and on-contract plans for folks on all kinds of budgets and with all kinds of priorities. First up is a new $60/month unlimited talk, text and web plan with access to over 3GB of data (before being throddled). In contrast, Verizon's $60 plan *only* offers 900 minutes to 5 friends and family members, and no included data. That's pretty impressive.
A much more reasonable $30 a month 100 minute plan was also added for data-hungry talk-shy customers, with access to 5GB at 4G speeds. What? Yes, you heard that right: for $30, T-Mobile is offering 5GB of data and 100 minutes. At that rate, you could call everyone in your phonebook via Skype and have yourself a truly world phone for a fraction of the price.
T-Mo is also getting serious about their prepaid offers. You can now purchase plans by the day. $3 a day gets you 200MB of 4G data plus unlimited talk and texts, while $2 a day gets you the same, except at 2G speeds. For those who don't plan on using their phone too often, $1 a day grants you 10 cent a minute talking and unlimited texts. In contrast, AT&T has a prepaid plan for 10 cents a minute with no daily fee, but you don't get free messaging...
In all, it looks like T-Mobile is doing the smart thing by embracing the diversity of their customers' habits. If we weren't big talkers, that $30 a month plan would look mighty tempting.
Related:
Why Blocking the AT&T–T-Mobile Merger Won't Save Sprint

Why is Data So Much Cheaper in Europe?