 T-Mobile Offers "Jaw-Dropping" $49.99 Unlimited Plan – Is This the Deal You've Been Waiting For?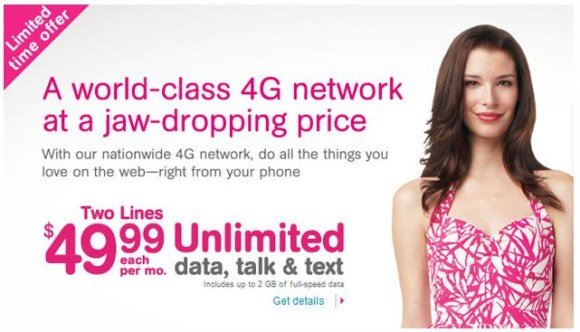 So, T-Mobile is offering a plan featuring unlimited data (slowed after 2GB, natch), talk and text for $49.99 per month. If that sounds too good to be true, well, it kind of is: you have to sign up for two lines to get the ultra low price, bringing the monthly total to $99.98. But, hey - that's still a pretty damn good deal for two people.
Considering the looming AT&T buyout, now might be the best time to jump on a low offer by T-Mobile. Who knows how the buyout will affect prices all around. One thing we know for sure? T-Mobile knows how to create good ads. And Carly is really cute.