Tested: The Samsung Galaxy S3 Will Have A Dual Core Chipset?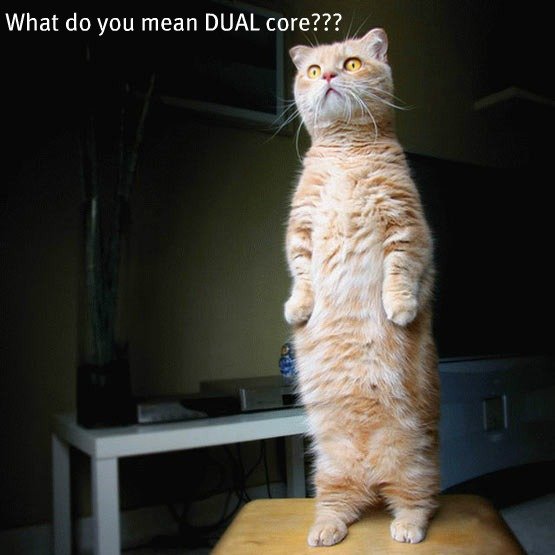 That was the statement that came straight from BSN. Samsung...please...don't do this to me...to us! Not you...anyone else ok...but not you. With all the rumors we've heard...all the rumored specs, leaked photos, dimensions, and wrong release dates we've been forced to report on in regards to the Galaxy S3, please tell me that you didn't decide to pull a Sony. Please tell me that this insanely overhyped product that so many people are holding their upgrade for will ship with a quad core chipset. Please let this report be FALSE. Please tell me you are still the king of shipping fast, sexy, and powerful products that exceed other Android manufacturers. What am I rambling on about? Nothing good unfortunatley, as BSN is reporting that not only will the Samsung Galaxy S3 stay a DUAL CORE device, it also won't feature an HD display. Allow me to quote the 25th letter of the alphabet....**ahem**....."Y"? But wait...something doesn't add up here....
The BSN report states that they have received benchmarks for the device, and seem very confident in their source. According to them, the Galaxy S3 will feature a 4.3 inch screen (not the 4.65 epic Galaxy Nexus sized screen we were hoping for), a Super AMOLED Plus display (as we saw in first generation Android tablets), and the SAME dual core 1.4GHz Exynos SoC process or that debuted in the Galaxy Note. Apparently, they will pair that processor with a more powerful version of Mali T-400MP GPU to enhance performance. Here's a look at the reported benchmarks: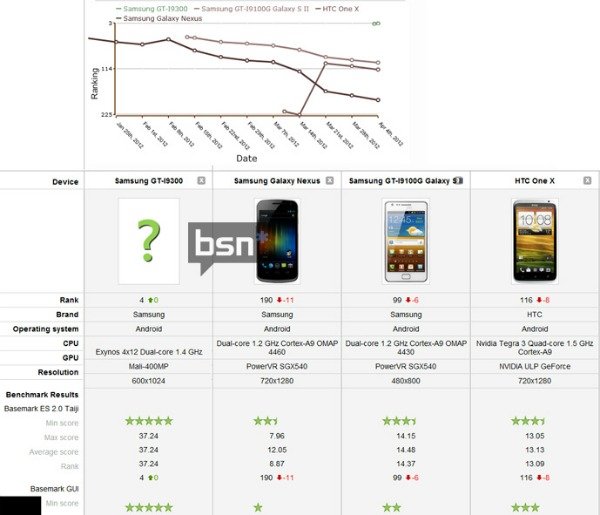 You know what I think? I think that these benchmarks are accurate, BUT, I think that the phone in the chart (the GT-I9300) is the Samsung Galaxy S2 PLUS and NOT the Galaxy S3. I mean, where should these benchmarks for the S3 have come from? And what sense would it make for Samsung to put such specs in the big brother of the phone that sold over 20 million units? And no HD display? Sorry, but this doesn't sound like Samsung. If (and I stress the word IF) this report is true and IS referring to the GS3, it would mean the Galaxy S3, the phone we expected to smoke ALL other Android phones in terms of power this year, would actually come out 3rd best, which is not something I expected to see from Samsung. Why I still question this is due to the fact that Samsung knows that the iPhone 5 release is right around the corner, and with the rumored release dates for both devices around so close, why hold back? As with most Galaxy S3 news, it cannot be confirmed at this point. But to be honest, the fact that this sounds so absurd is why it scares me the most. It sounds so utterly crazy and unexpected that it just could possibly be true. Despite that fact, I still have my hopes up for a quad core chip and an HD display.
Why do you guys think? I mean maybe it's just me, but (if these benchmarks are indeed true) did this somehow take a lot of the wind out of the Galaxy S3 release? Or isn't it more likely that it's the Galaxy S2 Plus? I wanted to hold off for the GS3, but if it really does feature a dual core chip, then the next Nexus phone will be what I'll hold off for.
P.S – Dear Samsung. Please don't turn into another Apple. I don't think you will, but just in case your debating it, please don't :-D
P.S.S - That cat seriously freaks me out.
UPDATE. The fact that Slashgear is also reporting they have heard reports of a dual core Galaxy S3 with no HD display is worrying though.
Picture credits: (cat) weirdasianews.com (edited by myself) - (benchmarks) - BSN