The Archos G9 Tablets – iPad, Meet Your New Nemesis Archos has already created tablets that were efficient and well-priced, but these G9 tablets sure up the playing field. We're talking about 250 GB of storage capacity, 1024x768 resolution at the absolutely insane price of $279 for the 8" model and $349 for the 10 inch. That's enough storage capacity for 50 hours of high-definition movies, and there's also an HDMI output to play films on your hi-def TV.
Sure, the timing is a little bit off -- it doesn't make sense to release a Honeycomb tablet in September, right before the release of Ice Cream Sandwich -- but with a faster processor than the iPad (1.5 Ghz vs. 1 GHz) tons more storage, (250 GB vs. a max of 64 GB), a larger screen (10.1 vs. 9.5) higher-quality playback (1080p vs. 720p) and a lower price, (starting at $350 for a 10.1 inch vs. $499 for a 16GB iPad), to us, the winner is clear.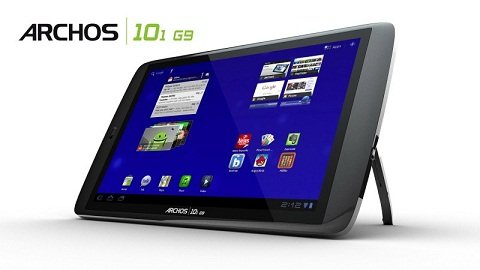 Interestingly enough, Archos isn't teaming up with carrier here. They're releasing their tablets in WiFi-only versions but with a 3G dongle so you can buy the tablet and upgrade to 3G at a later date. On the one hand, this is sort of like selling you a computer without a hard drive to save you the hassle of choosing one. On the other hand, you won't get locked into a plan if you're using your tablets primarily at home through WiFi and you can have some choice when the time comes.
Let's think for a moment about how unique these tablets are. For one, they're the first to be developed with hard drives, not flash memory. They're also the fastest tablets released yet, with 1.5 GHz dual core ARM Cortex-A9 Soc. And they are the only tablets to be able to decode 1080p videos smoothly, while crrent tablets are unable to play even 720p smoothly. And those prices are unbeatable.
We can't wait to test one.