 The Empire Strikes Back – Thousands of iPhone Customers Sue Apple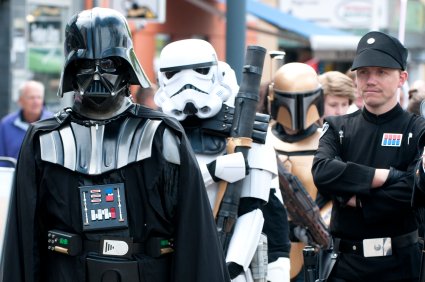 As you surely know, in late April, Apple came under fire after it was revealed that their iPhones contained a program that synced location-based data to your iTunes account. Apple was accused of tracking its users whereabouts. "OMG!" everyone said. "Apple is Darth Vader!" After being blasted in the press, Steve Jobs finally responded, telling folks that the data was mainly used to help the iPhone "rapidly and accurately calculate its location when requested," in order to build "better traffic services." Then literally everyone forgot about it.
...Or did they?
Now, we're hearing that over 27,000 customers in South Korea have decided to sue Apple for tracking their location without their approval. 27,000! If they win, Apple will have to fork over $25.7 million to all the plaintiffs. This may seem like chump change for Apple (and, believe me, it is), but it's certainly bad press, and icould inspire similar suits in the states. A South Korean law firm has even started a website – sueapple.co.kr – to draw more plaintiffs. As lawyer Jae Chul says, "Accumulating location data without individual consent is clearly illegal."
Now we love it when helpful apps tell us where we are (like Google Latitude) but we're not so happy when that information is collected and sent to our computer for no discernible reason. What did Apple expect to happen?