The New Rebecca Black App is FUN FUN FUN FUN FUNFUNFUNFFUFUFUFUFUFU... F.U.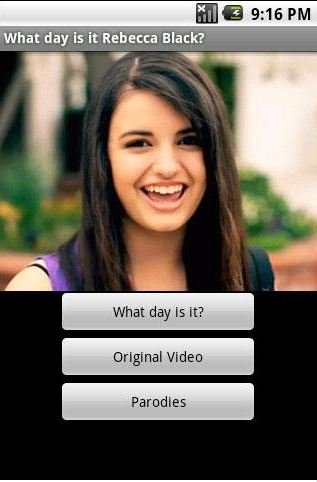 Hey! Rebecca Black! What day is it? Is it, by any chance, Frrrrrrrriiiiiiday?
Oh.
Oh god.
Oh god, nOOOOOOOOOOOOOO!

Today in terrible apps...we present....the "What Day is It, Rebecca Black?" app, by someone obsessed with Rebecca Black!
It is a very silly app, which basically tells you what day it is. Reviews have been mixed. Actually, they've been terrible. We do not care! Terrible things make us gleeful.
Sure, watching children trying to act like adults is depressing. Sure, Rebecca Black's song is like watching someone perform cataracts surgery on a cat. But for those who want to know what day it is, there's really no other option.