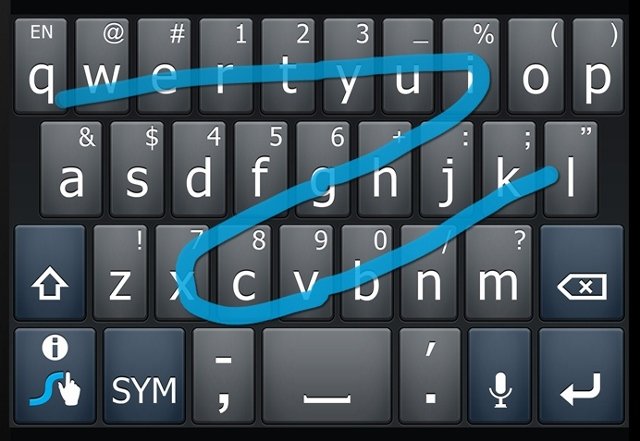 Just as touchscreens have revolutionized the way we interact with our phones, Swype has radically changed the way we use our virtual keyboards. Android users across the board have ranked Swype as one of the most useful tools available. Swype has been a blessing for people struggling to type efficiently on their fingerprint-smudged displays. With Swype you can glide across the screen to enter text in just seconds instead of tapping away like mad.
We're all in awe of Swype, but how did the developers get the app to work so well?

What differentiates Swype from all the other virtual keyboards is the ability slide across the screen and string together letters to create words. Since there's no need to lift your finger away from the screen, you can compose text messages and emails at record speeds (estimated to be around 40 words per minute).
So how does the app recognize my sloppy "swiping"?
As usual it boils down to math. It took a real smart programmer to develop an algorithm that could compare the similarity between a user's crooked "swipe" and an ideal sliding trajectory.
Analyzing the difference between someone's slide and the hypothetical "perfect swipe" allows the app to guess what you are trying to type with impressive accuracy.
In addition to this accuracy algorithm, other complicated mathematical formulas are used to track and identify certain patterns and typing behaviors. Swype assumes, for example, that the faster you swipe, the more likely you are to make mistakes. So every time you make a quick swipe, Swype automatically comes up with several suggestions for word choice – just to make sure you haven't made a typo.
Swype even goes so far as to analyze the "curviness" of your swipes to determine which letters are flukes and are not actually part of the word you are trying to write. And like most other keyboards, Swype picks up on your vocabulary and word choice.
All of this math talk just goes to show that it takes serious MIT-level brains to come up with useful apps like this one. Even the most simple of ideas takes serious programming to come up with reliable results.
If your device didn't come with Swype pre-installed, I would suggest heading over to the developer's website and signing up for the beta-version of the app.