The Wait is Over: Galaxy Nexus Has Finally Arrived on Verizon, Along with a Cheaper Data Plan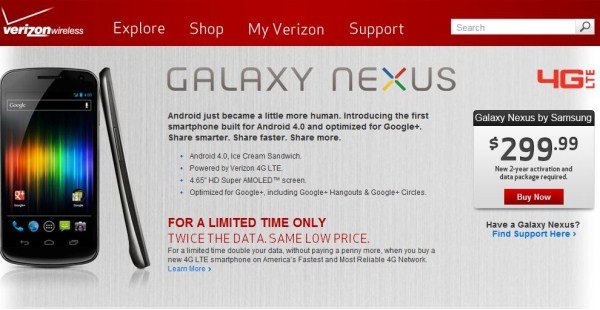 After what's seemed like years of waiting, the Galaxy Nexus has finally arrived on the Verizon network. Priced at a substantial $299.99 with a two-year contract, the smartphone received almost zero publicity from Verizon, fueling all sorts of rumors about a possible release delay.
Thankfully, the phone is here as of midnight today and can be ordered from Verizon's website today. Folks not wanting to hand over 2 years of their cellular life to Verizon can also purchase the phone contract-free for $649.99.
Verizon is also debuting a new data plan. For a limited time, new customers will pay half the cost for the same amount of data. $30 will snag you a significant 4GB of data, while $50 or $80 gets you 10GB or 20GB, respectively. It's a pretty impressive promotion; check it out by clicking the link below.