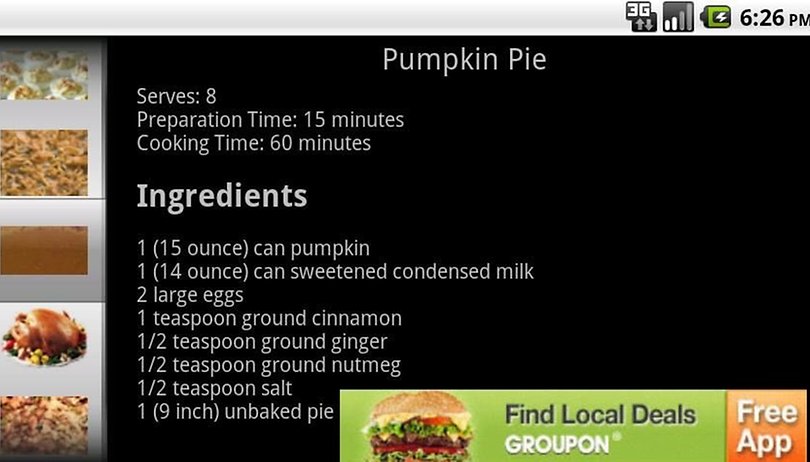 These Thanksgiving Apps Will Make You Feel Thankful (That You Don't Have an iPhone)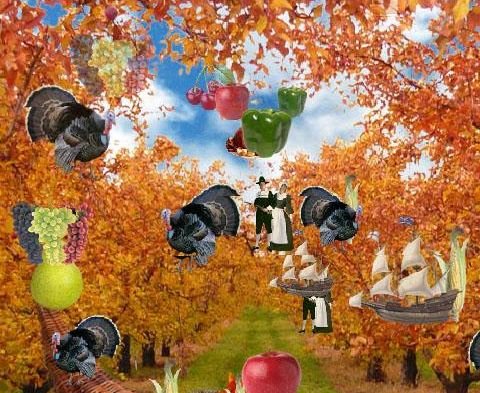 Oh my god, Thanksgiving is here! There's so much to do, it's enough to make you want to curl up in the corner and cry! Thankfully (get it?) there are a bunch of Android apps here to help you celebrate that one time a bunch of Pilgrims slaughtered a turkey and invited everyone to eat it. From live wallpapers to recipe apps, we've got you covered. So read on if you love your country, or move to France, traitor!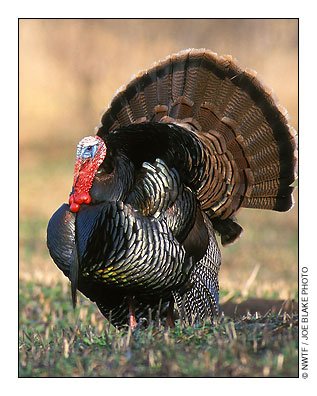 Nothing spices up a boring dinner with family quite like startling your sister and step-cousins with loud turky calls! But, sadly, the Thanksgiving Turkey Calls app should really be called Ambient Noise from a Farm because that's what it really sounds like. Sure, you can hear a few "gobble gobble"s, but the sound quality is somewhat, well, garbled, as most of the noise you hear just sounds like a live feed from the nearest barn. Still, perhaps friends and family will get a kick out of it, somehow.
Anipet Thanksgiving Live Wallpaper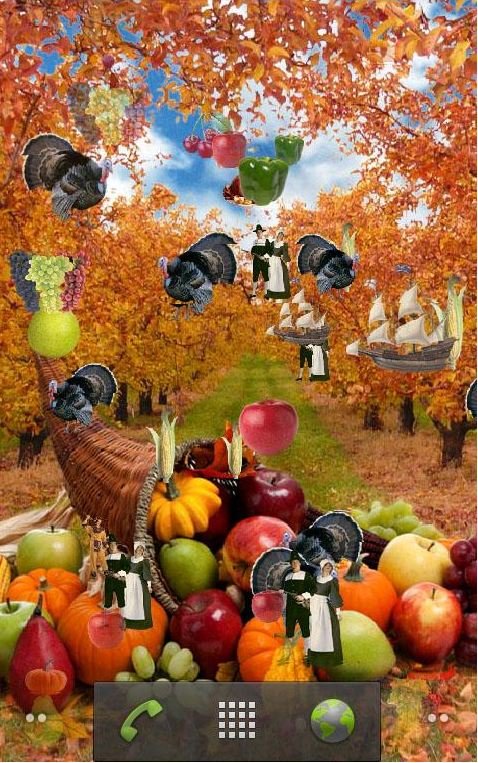 Holy Mayflower, there are corn husks and pilgrims falling from the sky! This Thanksgiving live wallpaper from the folks who originally brought you AniPets Live Aquarium (which we loved), features, let's just say, a "busy" collection of live graphic elements, including lots of pilgrims, apples, Mayflower ships and turkeys careeening down the screen in front of a background image of a Fall orchard. It's kitschy but also oh-so-American, so download it now if you love your country and flag.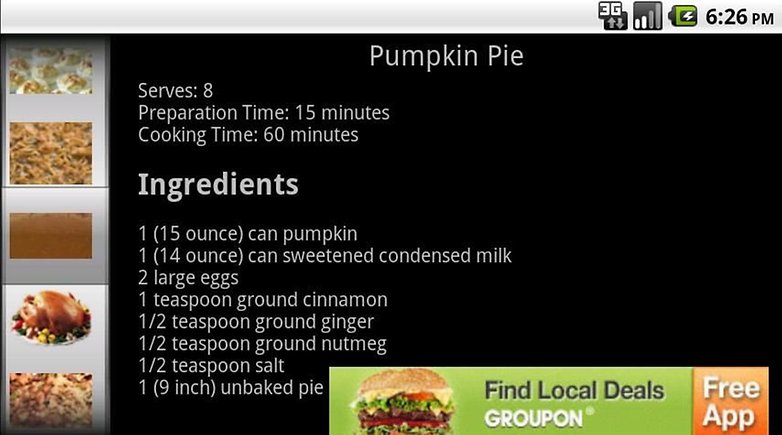 We all know thanksgiving is really all about stuffing your face, and Android is here to help fatten you up. Celebrate our nation's proud heritage by learning how to make enough Thanksgiving recipes to feed a small colony of pilgrims! There are a bunch of classic Turkey day recipes here, including Pumpkin Pie, Green Bean Casserole, Deviled Eggs, Creamed Onions, Mashed Potatoes and – of course – Turkey. We appreciate that you can scroll through recipes quite easily, and there are large photos to show you how the dish is supposed to look like (actual results will vary, 'natch), so we like this one.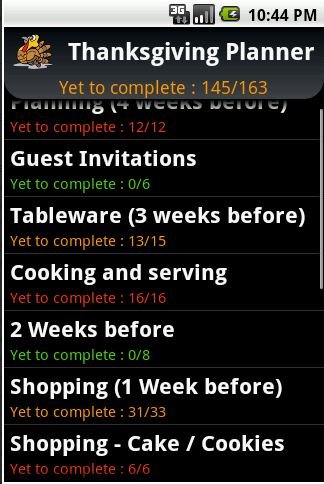 Thanksgiving can be suuuuper stressful. You've got your entire family in one place for the first time since ever, you've got Black Friday looming, you've got people with allergies to peanuts, bread and meat to deal with. How are you not going to explode out of anxiety? Well, Thankfully, the Thanksgiving Planner app is here to help! With this app, you can easily create a massive list of things you need to do before the ever-important dinner, from shopping to invitations. The app comes pre-populated with 160 thanksgiving items so you don't forget anything for your party. If you weren't stressed out before, you will be after reading the about the 160 things you need to do before the big dinner.